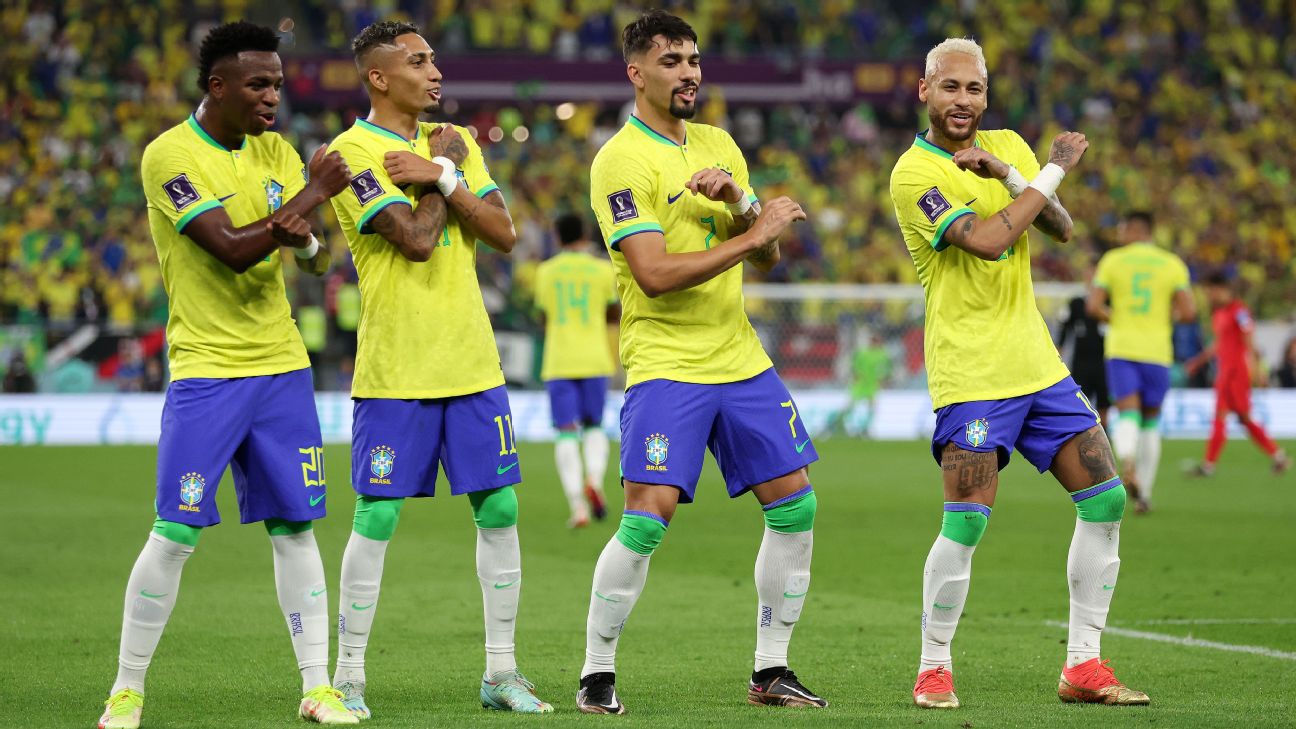 Brazil's players and many of those watching around the world enjoyed the dance routines after each goal the Selecao scored in Monday's 4-1 win over South Korea at the World Cup. But for those who saw them as acts of disrespect toward their beaten opponents, there is some bad news: Brazil are not going to stop.
– World Cup 2022: News and features | Bracket | Schedule | Squads
After qualifying for the World Cup quarterfinals with four goals all scored before half-time at Doha's Stadium 974, Brazil forward Raphinha was clear: "It's a problem for those who don't like it, we'll keep doing it." Even before Brazil had played their first match in Qatar, the Barcelona striker had revealed that they already had as many as 10 dances rehearsed and ready to celebrate.
Against South Korea, the celebrations all followed the same protocol. After the goal was scored, all the Brazil players gathered around, hugged each other and congratulated the scorer before the quartet of Neymar, Lucas Paqueta, Vinicius Junior and Raphinha took the spotlight with one of their routines.
The first piece of choreography was based on "Pagodao do Birimbola" by Brazilian group Os Quebradeiras, one of the most popular songs on TikTok in Brazil. The defining moment came on the pitch, but the rehearsal started earlier, with videos shared between the players while they were in Qatar. The version of the routine that Neymar posted on his TikTok account has had more than 10 million views.
"On a daily basis we send videos and, inside the hotel, we just say: 'It's going to be that one,'" explained Paqueta. "This is a team where everyone is happy to make goals, happy to take the victory. Everyone celebrates in their own way."

One of the observers who did not enjoy the spectacle was Roy Keane, the former Manchester United captain who said, in his role as a TV analyst, said: "I don't like this. People say it's their culture. But I think that's really disrespecting the opposition."

Paqueta's simple response to that criticism was to say "the first thing is respect this" before adding: "The dance is a symbol, this symbolic way to show our joy of scoring a goal. We don't do it to disrespect, we don't go in front of the opponent, we don't to anything. We gathered around, you can see that, everyone is here. And then we started to celebrate, it is our moment, we scored a goal, so Brazil celebrates. If he doesn't like it, I don't have much to do for him. If we score another goal, we will keep celebrating."

Even Brazil coach Tite got in on the act for one of the goals. After Richarlison scored his side's third goal after less than half an hour of the match, the 61-year-old attempted to dance along with his players to a routine based on "Dança do Pombo" (which translates to English as "Pigeon Dance") by Mc Faisca e os Perseguidores. He did so surrounded by his players in front of the Brazil bench — a request from the coach so as to not appear that they were disrespecting their opponents.

"We try to adapt to the characteristics of the athletes. They are very young, and I have to adapt myself a little to them. They have the language of the dance." explained Tite, who revealed that before the "Danca do Pombo" he had tried to follow the players in another routine but he found it too difficult. "That one ['Danca do Pombo'] I can do something similar, but a bit worse. So, I said that if [Richarlison] scores, he can do it and I'm going to dance."

Tite added that he took care to ensure that his celebration would not be seen as a way of taunting his counterparts in the South Korea dugout, adding: "There will always be the bad ones who will say it was disrespectful. So, I asked the players to hide me for a while. I know the visibility, there are lots of cameras, and I didn't want there to be any other interpretation than truly happiness for the goal, for the team, for the performance, for the result, and not a disrespect to the opponent, as it is not. But I couldn't hide it."

Ahead of Friday's quarterfinal against 2018 finalists Croaita, Brazil already have a contender to be their next choreographed goal celebration: a routine set to the song "Aquecimento Senta Senta Suave" by Buarque, a friend of Vinicius Jr., and MC Kevin O Chris.

The Real Madrid forward joked to Brazilian streamer Casimiro: "If God wills, until the final, there's plenty of dancing to come."

This article was first published by ESPN Brasil and has been translated from Portuguese