Karim Benzema has described the Clásico between Real Madrid and Barcelona as "the best game in the world".
The Madrid striker's comments come after Los Blancos oversaw a 3-1 rout of Liverpool in the first leg of their Champions League quarter-final tie on Tuesday. Having claimed Liverpool's scalp in the first match of a bumper week for Zidane's side, next up is Barcelona on Saturday, a game which Benzema says they will treat "as a final".
Benzema on Clásico "final"
"For me, the Clásico is the best game in the world and not only for me, for everyone, because it involves two teams that have a lot of history and it is always a very important game," said the Frenchman in an interview for LaLiga.
The three-way battle at the top of the LaLiga table is set to be fierce going into the business end of the season. And with second-placed Barcelona (65 points) one point behind leaders Atlético Madrid and just two points ahead of Real, with all three having played 29 games, Sunday's Clásico could prove decisive in determining this season's champions.
"As always, it will be a difficult game against a team that likes to have the ball. We also like to have it. It will be played in the middle and like in in the first game this season, we will come on the field to win because for us it is a final," Benzema added.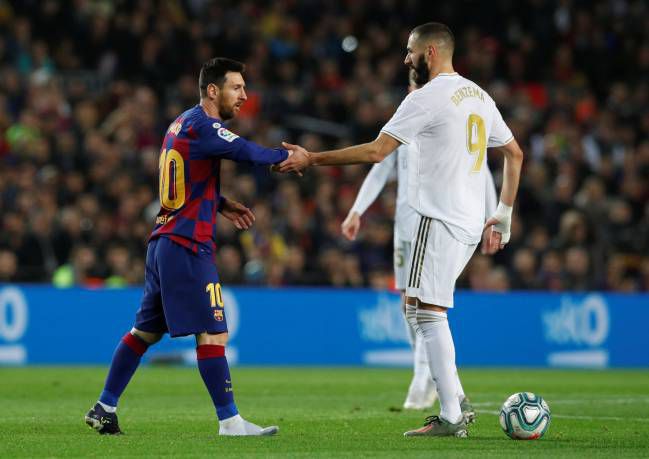 Benzema on Messi's importance to Barcelona
Benzema believes that Barcelona will look to keep possession and depend on Argentine captain Lionel Messi to grind out the win.
"They always have possession, they have a good goalkeeper and Messi, the player who does everything for Barcelona. We have to be careful because he is very dangerous," he warned.
The 33-year-old is on track to record the highest-scoring season of his career. And while he would love to net a goal in the Clásico, he stressed that the most important thing is help the team win the game as they look to retain their league title.
"I don't know if it's my best season, every year I start from scratch and I want to improve on the previous one. Now I'm on a scoring streak and if I can continue working to help my team win points and games, I'm going to do so. The important thing is to win," he said.
Benzema added: "I feel free on the field, I do what I want, I help the team at the beginning of the play, I finish it. There are plenty of games left and this league will be decided at the end. It is very difficult, but we have to treat every game as if it were a final."