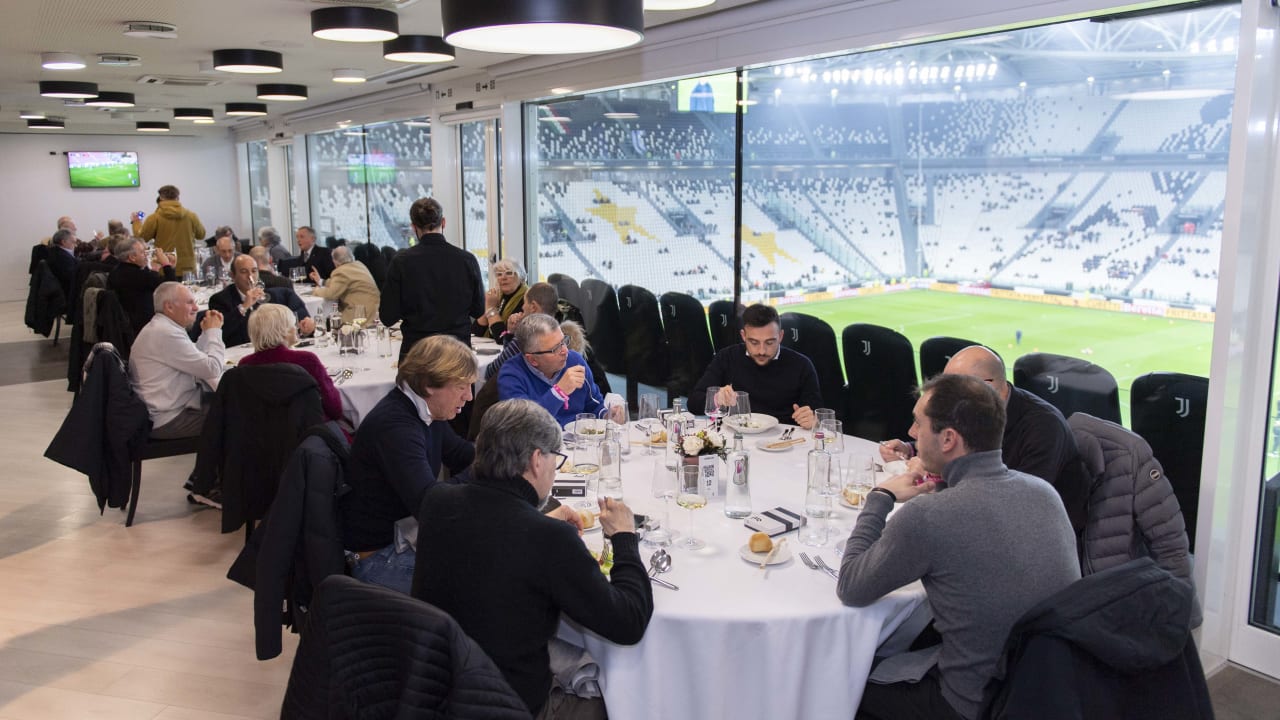 Perhaps not everyone knows that the Juventus Museum, the place where Juventus history is experienced more intimately than any other, is such a treasure chest, also and above all, thanks to the souvenirs and mementos (over three hundred) that belong to private collectors.
These collectors, by permitting the Juventus Museum to exhibit them, have decided to allow everyone to enjoy the incredible trip through time, for every fan, to see real legendary keepsakes up close.
To thank them, after the forced break last year, the "Collector's Day" returned to the Allianz Stadium, in the splendid setting of the Legends Club, on the day of the Coppa Italia match against Sassuolo, in the company of four Bianconeri Legends, Massimo Bonini, Luigi De Agostini, Giuseppe Furino and Beniamino Vignola. 
Juventus Museum President, Paolo Garimberti, captured the enjoyment of yesterday's beautiful evening when he said, "Events with those who have contributed in a really important way to enriching and making the Juventus Museum even more attractive were becoming a pleasant tradition. Every year we would enjoy good food and watch the match together. The pandemic, unfortunately, interrupted it, as it has interrupted many other things in the life of Italians. The fact, however, that it was possible to gather all together at the Allianz Stadium, before an important match, with the collectors that have helped us make the museum great was an important signal of a return to normality. We hope this is the beginning of a season full of the pleasure of being together."
An evening of football emotions, anecdotes, stories, but above all of smiles and rediscovered company – an event symbolising the desire to get back together.
Tommaso Agosta, Francesco Bandiera, Maria Teresa Canfari, Giuseppe Canova, Manuela Capello, Giuseppe Casalini, Riccardo Cavallari, Stefano Colombo, Andrea Danubi, Emilio De La Foreste De Divonne, Enrico Dusio, Piero Dusio, Vincenzo Felici, Gabriele Ferrero, Andrea Ferro, Ennio Galasso, Stefano Gelona, ​​Elena Kluzer, Evasio Lombardi, Giorgio Mazza Bruni, Paolo Mazzera, Francesca Mazzonis Di Pralafera, Emanuele Mina, Ada Ribetti, Laura Ribetti, Silvia Ribetti, Ermanno Vittorio. These, in addition to Mariella Scirea, are the names of the collectors present on Thursday and we thank them from our heart, but we want to thank them all, even those who did not manage to be present yesterday, because their contribution continues to be an exceptional added value for the Juventus. Museum.


Source juventus/Football Reporting