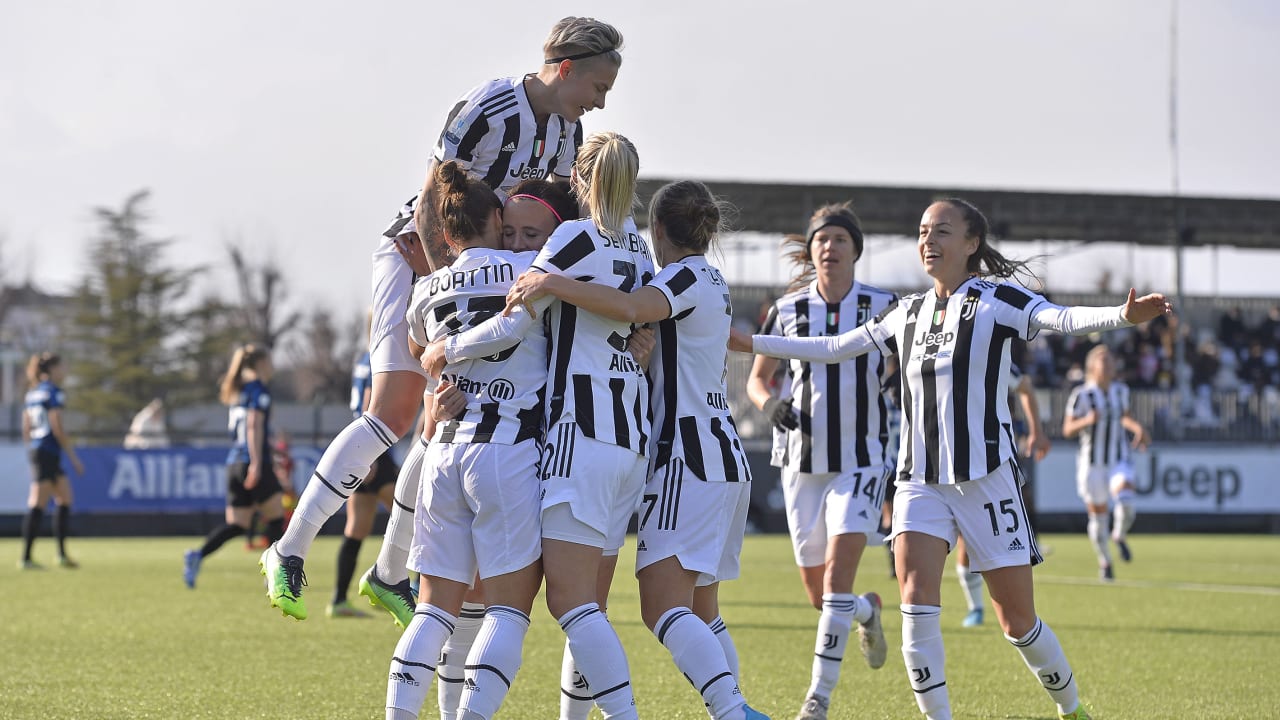 Barbara Bonansea's fantastic 14th minute strike saw Juve reach the last four in the Coppa Italia. While it was a less hard-fought match than the first leg it was certainly just as tough-going for both sides. This is precisely why Juventus Women's 1-0 triumph over Inter to reach the Coppa Italia semi-finals is so significant. The hosts could indeed have increased their lead in the game as they had a number of clear chances and dominated the game throughout, yet all of these smaller details pale into significance compared to the final outcome of the game. We now pause for the international break before Joe Montemurro's side reconvenes at the end of February to continue their quest for glory.
While there were no points in play the stakes were very high, as both sides were fully aware. The game got off to a cagey start with neither side willing to let their guard down. Juve and Inter were conscious that one goal could tip the balance of the tie given the first leg had ended 1-1. However the hosts showed themselves to be the most proactive and determined and it wasn't long before they broke the deadlock through Bonansea to make it 1-0. 
Inter were quick to react though; Pauline Peyraud-Magninshowed impressive reflexes to keep out Tatiana Bonetti's left-footed drive from inside the box. This turned out to be the only real danger posed by the visitors, and Juve could consider themselves unlucky to have not extended their lead through Valentina Cernoia's cross shot. The half-time break came along with Montemurro's side in control and raring to extend their advantage after the break.
45 minutes to go and the battle continued. The game became bogged down in midfield and there were no chances to speak of until Cernoia's effort in the 68th minute forced Francesca Durante into a smart stop. Captain Sara Gama, whose defensive performance was impeccable, also tried her hand in attack, getting two good chances. Despite never taking their foot off the gas and another good goalscoring opportunity through Lina Hurtig the home side were unable to double their lead and had to fend off a late onslaught from Inter. Juve were relieved when after four minutes of injury time the referee blew the final whistle, confirming their 2-1 aggregate victory over Inter and their passage to the semi-finals of the Coppa Italia.
Juventus Women 1-0 Inter (HT: 1-0)
Juventus: Peyraud-Magnin, Gama, Boattin, Sembrant, Lenzini, Cernoia (Caruso 87'), Rosucci (Girelli 66'), Pedersen, Grosso (Zamanian 78'), Bonansea (Bonfantini 78'), Hurtig  Nilden 87')
Unused substitutes: Aprile, Hyyrynen, Panzeri, Staskova
Inter: Durante, Sonstevold, Landstrom, Souza, Karchouni, Pandini (Polli 75'), Simonetti, Csiszar (Marinelli 63'), Bonetti (Portales Nieto 88'), Krist, Nchout Njoya
Unused substitutes: Cartelli, Passeri, Santi, Brustia, Alborghetti, Vergani


Source juventus/Football Reporting