Real Madrid and Barcelona lock horns again in the Clásico this Saturday at the Estadio Alfredo di Stefano in what will be the 246th competitive meeting between the sides.
This 246th meeting will be as big as the previous 245, but perhaps more decisive than many. The three-way battle at the top of the LaLiga table is set to be fierce until the season's end. And with second-placed Barcelona (on 65 points) a mere one point behind leaders Atlético Madrid and just two points ahead of third-placed Real, with all three having played 29 games, Saturday's Clásico could prove key in determining this season's champions.
Down through the years, several of history's greatest players have played a starring role in the long-running Clásico drama, with the fixture's all-time top scorers list reading as a who's who of footballing legends, and is unsurprisingly led by Lionel Messi and Cristiano Ronaldo.
Overall after 245 games played, Real Madrid have scored 411 goals and claimed 97 victories, one more victory than Barcelona, who have scored 400 goals against their eternal rivals. With 811 goals in 245 games, there have been an average 3.3 goals per Clásico fixture – not a bad turnout for the greatest club game on earth.
Clásico all-time top-scorers
Lionel Messi (Barcelona) – 26 goals
Lionel Messi, the only man in the top 10 that is still active in the Clásico, leads the table with 26 goals. Those 26 goals – 18 in LaLiga, 6 in the Spanish Super Cup, 2 in Europe – have come over the record total 44 fixtures that the Argentine striker has played since his first game against Real Madrid more than 15 years ago in November, 2005.
Although, surprisingly, it has been almost three years since the great Leo last scored against Los Blancos, in a 2-2 draw in LaLiga in May of 2018. He will hope to bring an end to that scoreless streak on Saturday to bring himself closer to the incredible 30-goal Clásico milestone – a milestone he may never reach, however, should he decide to leave Camp Nou this summer.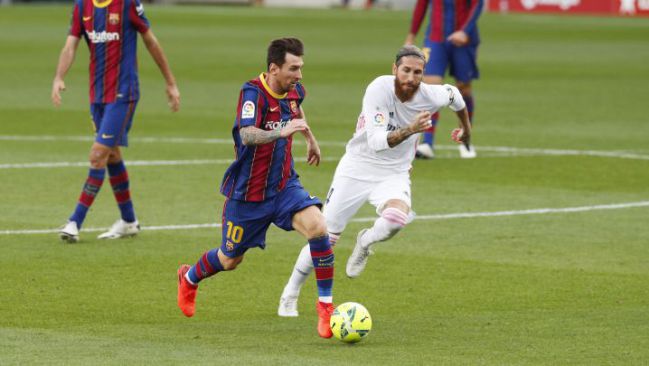 Cristiano Ronaldo (Real Madrid) – 18 goals
Much to the disappointment of Real and Barça fans alike, Cristiano Ronaldo no longer plays a part in this fixture and particularly in history's greatest duel with Lionel Messi that lasted nine glorious seasons (somewhat coincidentally Messi has not scored since Ronaldo's last Clásico before he left for Juventus in the summer of 2018).
During this time at Real Madrid, CR7 played in 29 Clásicos, netting 18 goals. Both he and Messi's last Clásico goal both came in that 2-2 LaLiga fixture in May, 2018. He was never able to bag a hat-trick in the fixture, unlike Messi, who has two Clásico hat-tricks to his name.
Alfredo di Stefano – 18 goals
The stadium at which Saturday's Clásico will be played (Real Madrid's training ground-based stadium used normally by Castilla and the underage sides) is named after this man for a reason. Arguably the club's greatest legend, Alfredo di Stefano remains Madrid's leading goalscorer in the history of the Clásico alongside Cristiano Ronaldo.
Di Stefano himself was the subject of an intense battle between the two clubs, both of whom had claimed to own his registration due to confusion that emerged when the player moved from Colombian club Los Millionarios to Argentina's River Plate. Acting as mediator, FIFA ruled that both clubs would share the player on alternate seasons. But the Argentine-born forward moved definitively to Madrid after the Barcelona interim board cancelled his contract following the forced resignation of its president at the time – a decision they probably lived to regret.
Raul (Real Madrid) – 15 goals
Not far behind Di Stefano on the Bernabéu legend stakes, local Madrileño Raúl comes in fourth with 15 goals. The former Spanish international played in 37 Clásicos overall, his first coming in a 5-0 rout of the Catalans in January, 1995 (he didn't score) and his last in a 2-0 defeat in April, 2010. Out of the top 10 all-time top scorers, he comes second behind Messi in number of appearances.
Clásico all-time top scorers: 5th to 10th
Behind Raul are three players on 14 goals: César (Barcelona, 1939-1955), Ferenc Puskas (Real Madrid, 1958-1966), and Francisco Gento (Real Madrid, 1953-1971).
Making up the rest of the top 10 are: Santillana with 12 goals (Real Madrid, 1971-1988), Luis Suarez with 11 goals (Barcelona, 2014-2020) and Hugo Sanchéz with 10 goals (Real Madrid, 1985-1992), who shares 10th place with Juanito (Real Madrid, 1977-1987), and Josep Samitier (Barcelona, 1919-1932).
With nine goals, Karim Benzema is just one goal away from joining those three legends in 10th place. And no doubt the French striker, who is on track to the highest goal-scoring season of his career, will be hoping that 10th goal can come in Saturday's decisive Clásico.