Josep 'Pep' Guardiola is one of, if not the best coaches in world football. He has won accolades and broken innumerable records wherever he has gone. His Barcelona side is oft touted as the best ever and it is hard to disagree given their impeccable record complemented by an attractive brand of football. He has further gone on to dominate Germany and England with Bayern Munich and Manchester City.
As a player, Guardiola was an integral part of the 'Dream Team' that won Barcelona's first ever European Cup under Johan Cryuff. Given the sheer number of achievements, some things about him are easily overlooked. Here are 10 things you (probably) don't know about Pep Guardiola:
1. CATALAN PRIDE
Pep is a big supporter of the Catalan independence movement. He has gotten into hot water with the FA in the past for sporting a yellow ribbon in support of jailed Catalan leaders. He also turned out for Catalonia, the region's own 'national' team, seven times in unofficial friendlies between 1995 and 2005.
Pep Guardiola has been fined £20,000 for wearing a yellow ribbon on the touchline during the FA Cup defeat at Wigan.https://t.co/ABH67ZMsUU pic.twitter.com/EZaO5iZMbQ

— BBC Sport (@BBCSport) March 9, 2018
2. MULTILINGUAL
Pep is meticulous in everything that he does and his dedication to getting his point across has led him to speak five languages. Apart from his native Catalan, he can speak Spanish, German, Italian and English. Such versatility and fluency in his speaking and understanding of languages might be one of many reasons for his phenomenal managerial success so far.
3. PEP THE ARTISTE
Guardiola's chic outlook is not limited to just his clothing. He is also an ardent art enthusiast. He spent a considerable amount of time during his sabbatical between the Barcelona and Bayern Munich managerial roles touring the New York art gallery scene. Perhaps we will see him pick up the brush and paints after retirement. Expect a lot of triangles
4. TIGER WOODS WHO?
To destress, Pep often enjoys a round of golf. He has played with professional golfer Tommy Fleetwood as well. He witnessed an incredible comeback by Europe in 2012 in the Ryder Cup, called the 'Miracle in Medina' as he was invited by Europe's Ryder Cup captain and compatriot Jose Maria Olazabal.
5. HUMBLE BEGINNINGS
Guardiola was born in a small town with a population of around 7000 people called Santpedor, 50 miles from Barcelona. He was conferred with the title of 'Favourite Son of the Town' in 2009 and has a sports complex named after him.
6. CLOTHING STORE ROMANCE
Pep's wife Cristina Serra is credited with his sharp dressing style. It is thus of little wonder that Guardiola takes his clothing so seriously. Her family owned a popular clothes store in Spain which was the place where the two met. Cristina returned to Spain in 2019 to manage her fashion business with one of their three children.
7. THE ACTIVIST
Guardiola has been in the news multiple times for using his position to highlight ongoing concerns around the world. Recently, he was spotted wearing a hoodie supporting Open Arms which is an organisation dedicated to rescuing refugees lost at sea.
He was also fined by UEFA for wearing a t-shirt supporting a campaign to investigate the death of an Argentine journalist.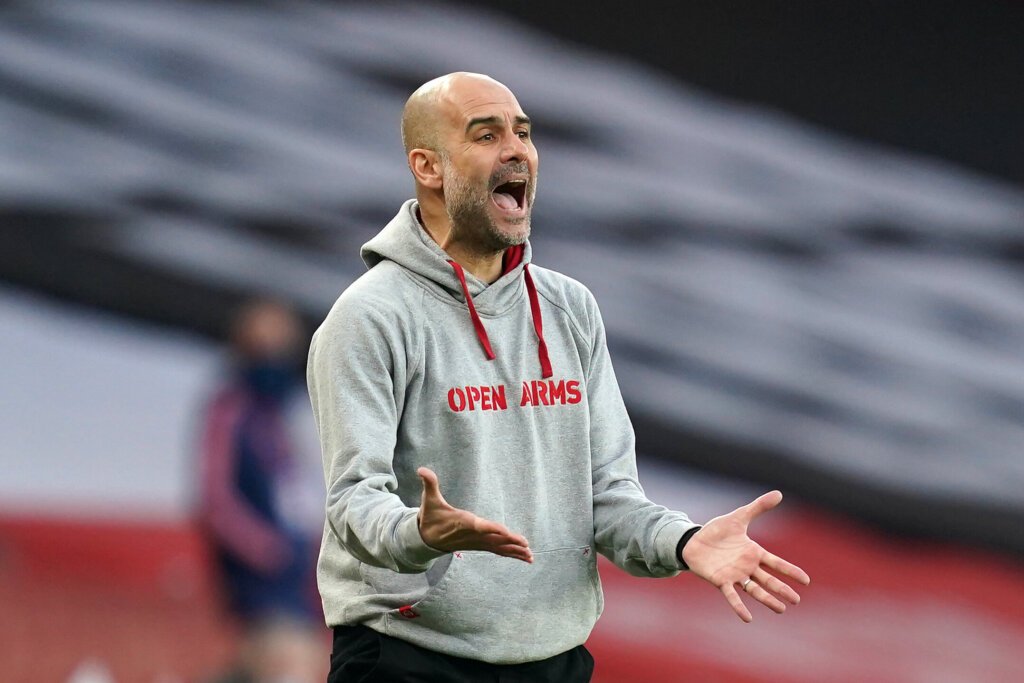 (Courtesy:The Athletic/Website)
8. FORMER DISCO STAR
In his younger days, Guardiola frequented the disco often. The Catalan certainly has some, interesting, dance moves, to put it politely. In fact, he was at a disco trying to build the courage to approach a girl when he received his debut call up to the Barcelona first team.
Pep Guardiola dancing at a party 20 years ago is the best thing you'll watch today. pic.twitter.com/wKRdbhdSXk

— ESPN FC (@ESPNFC) November 27, 2018
Check out these dance moves from the Manchester City gaffer!

Pep Guardiola is dancing all the way to Turin 😉#OptusSport pic.twitter.com/wBYzXm2Ybn

— Optus Sport (@OptusSport) May 22, 2019
9. THE AUTHOR
Guardiola is one of the few managers who tends to maintain good relations in the press and often has light hearted conferences. Perhaps that stems from his own time as a writer. He penned a book called 'La Meva Gent, El Meu Futbol' in Catalan which translates to My People, My Football. The book was published only in Catalan and has long been out of print. A copy would be difficult and expensive to find.
10. BIELSA CONNECTION
Marceloa Bielsa has had a heavy influence on world football and it has been most pronounced through Guardiola. The two share similar philosophies on football. When Guardiola was deciding on whether to become a coach, he travelled through the night to Bielsa's residence outside Rosario for advice. Bielsa asked him 'Do you really like blood that much?' and Pep replied 'Yes, I need that blood.' He went on to learn a substantial amount from Bielsa and the rest as they say is history