Inter and AC Milan went head to head at San Siro in the Derby della Madonnina on Saturday evening, and it was the red half of the city who were left celebrating.
It always had the promise of being a thrilling encounter in the race for the Scudetto, with only 4 points separating both teams (although Inter have a game in hand), and with the title hopes hanging by a thread for the Rossoneri they pulled out an absolutely crucial win.
After the first 60 minutes it seemed as though Inter were heading towards a win that could have shaken off their city rivals once and for all, but then Milan grew into the game and Olivier Giroud's quickfire brace secured a memorable night. Below are some tactical points…
Pioli's approach
Pioli set up an unconventional 4-2-3-1 with Kessie playing as the advanced midfielder and Tonali partnering Bennacer in the double pivot. This was to create a man to man system, which was construed to disrupt Inter's five-man midfield that often overpowers opponents.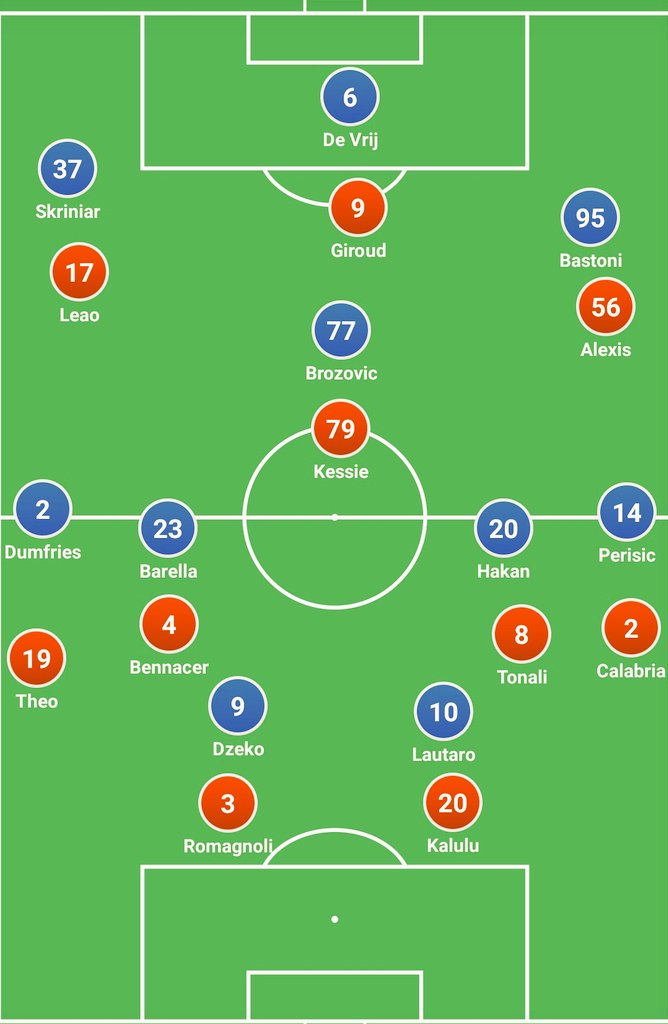 The new re-laid pitch meant there was a real zip to the way the ball was moving and Milan was showing some real intent with some nice passing combinations.
Inzaghi's plan
Unlike Conte's Inter – although their ideas out of possession were similar – Inzaghi used the different movements between Brozovic, Barella, Calhanoglu and Dzeko in build-up play.
In this particular sequence you can see Brozovic acting as a third centre-back, giving Skriniar the license to underlap.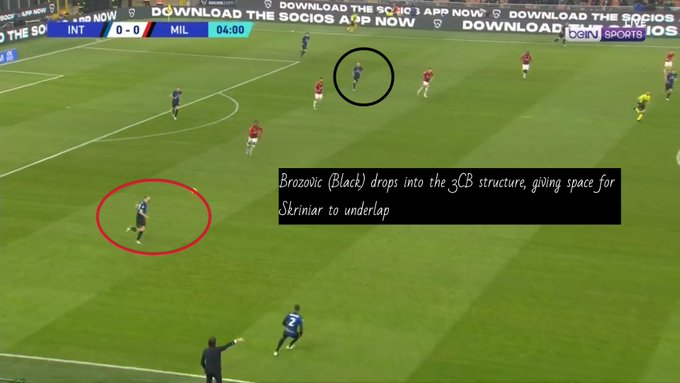 In the sequence below, Barella sits back with Brozovic to suck Tonali and Kessie and make space for Dzeko to receive the ball and put Dumfries through.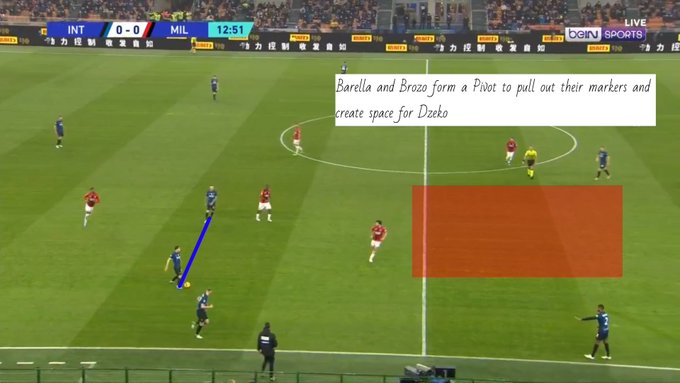 Another technique Inter used was to have Brozovic sit with the back three and have Dzeko drop into midfield to receive Brozovic's long balls and then try to combine with Lautaro.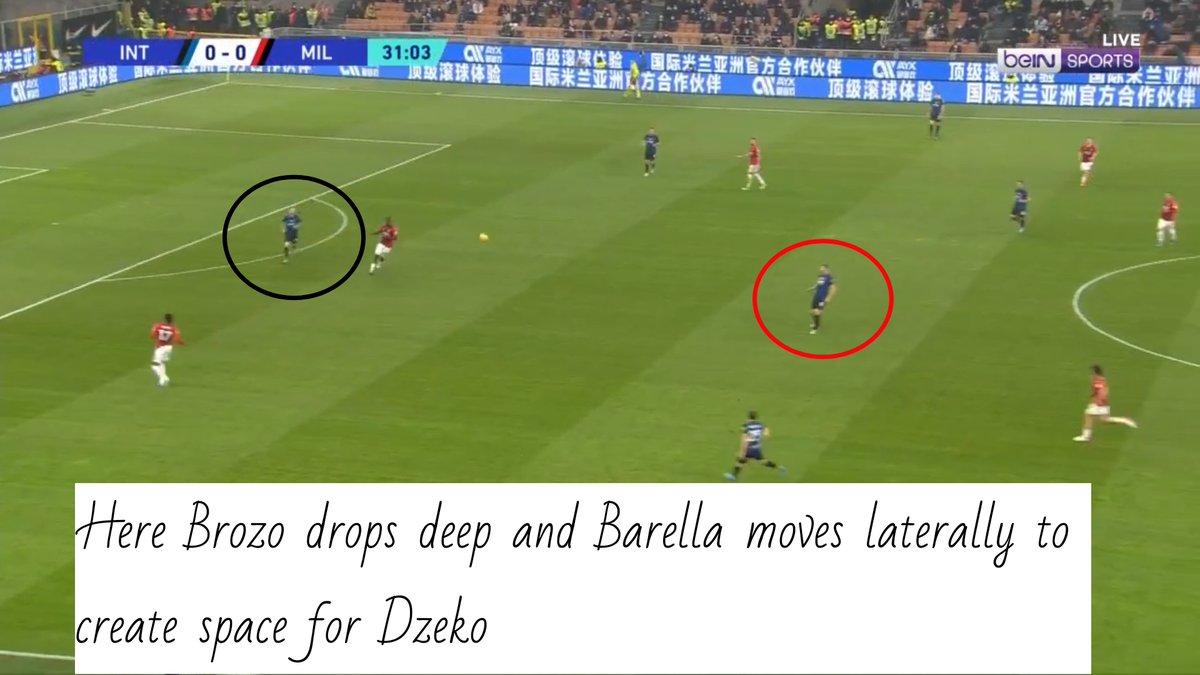 In a 3-5-2 system, a very important factor for the attack was how well the front two combined. Last season Lukaku and Lautaro were one of the most lethal forward pairings in Europe, and although Dzeko and Lautaro have a good partnership, they combined only once to create for Barella.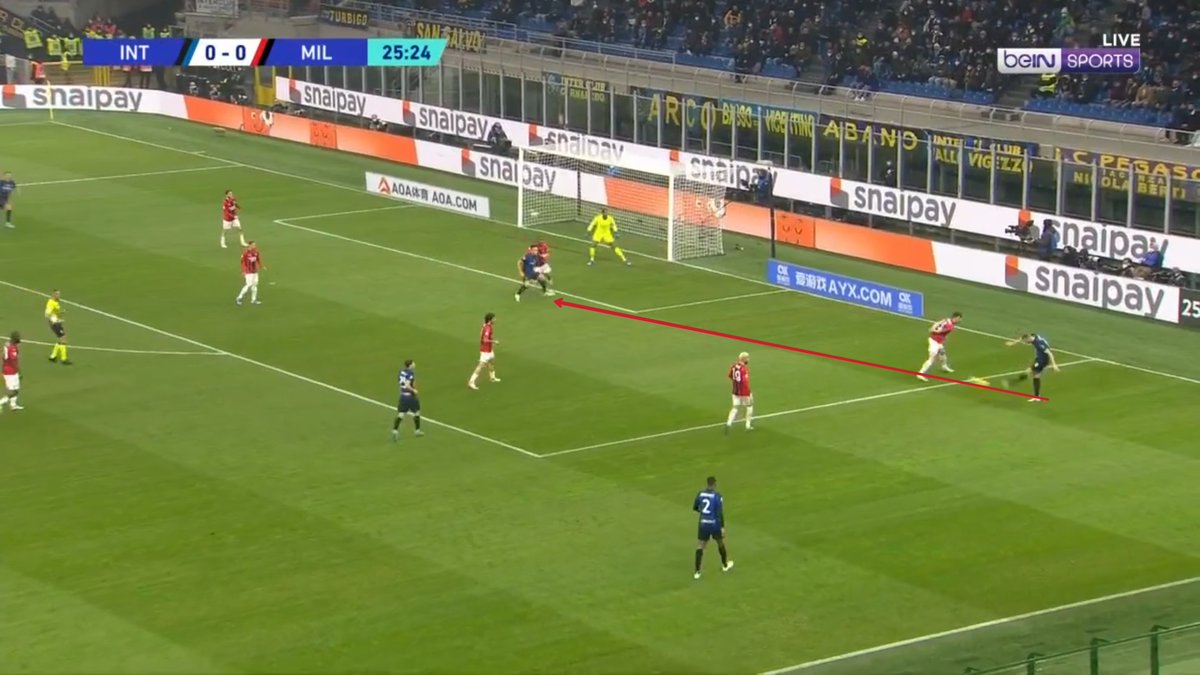 Inter were vary of the fact that Perisic was getting the better out of Calabria in almost every 1v1 so they targeted him a lot, with the Croatian's pace used to get the better of him. One almost resulted in a goal, but it was called back for offside.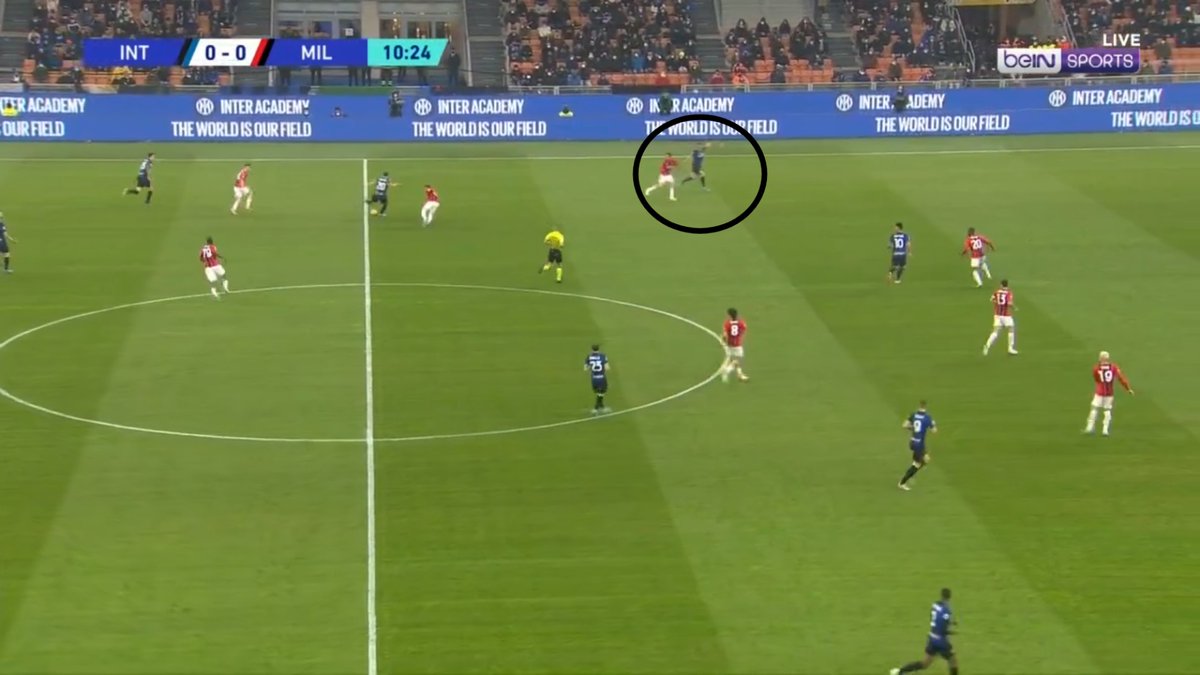 Systematic press
Inter used a high press against Milan with a man-oriented system with Barella and Calhanoglu marking the double pivot while Dumfries, Lautaro and Dzeko marked the make shift back three.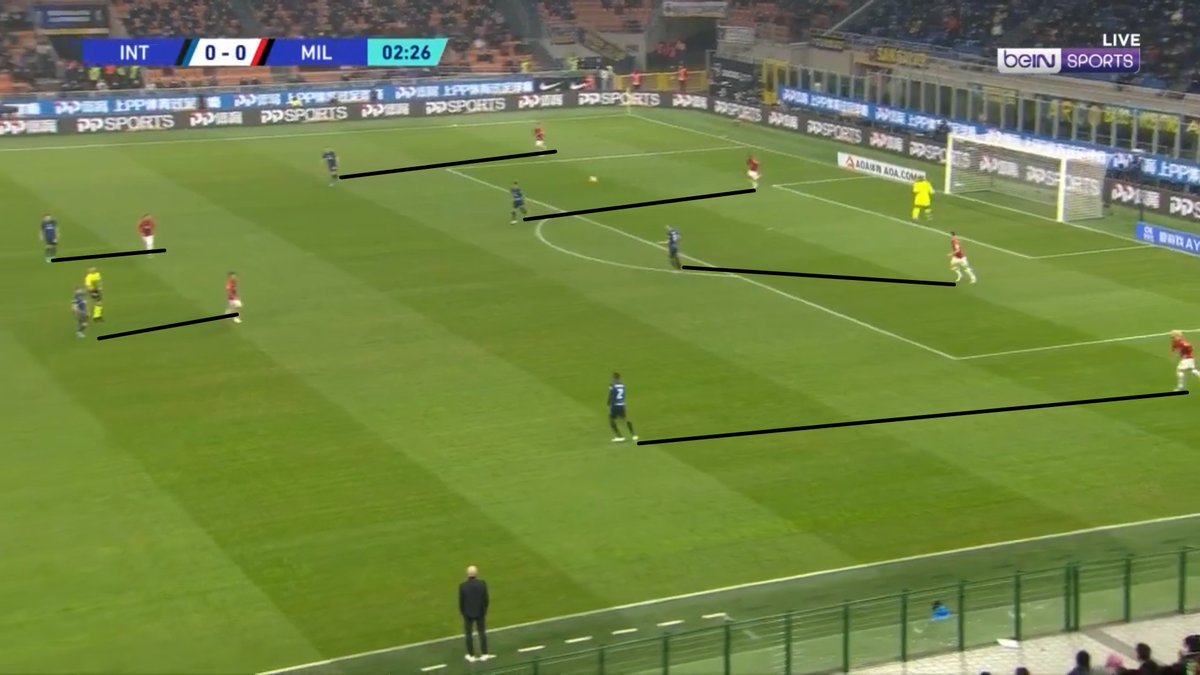 When Milan penetrated their press and got to the wings in their defensive half, Inter would press with intensity using a ball-oriented approach cutting off not giving the player in possession any space.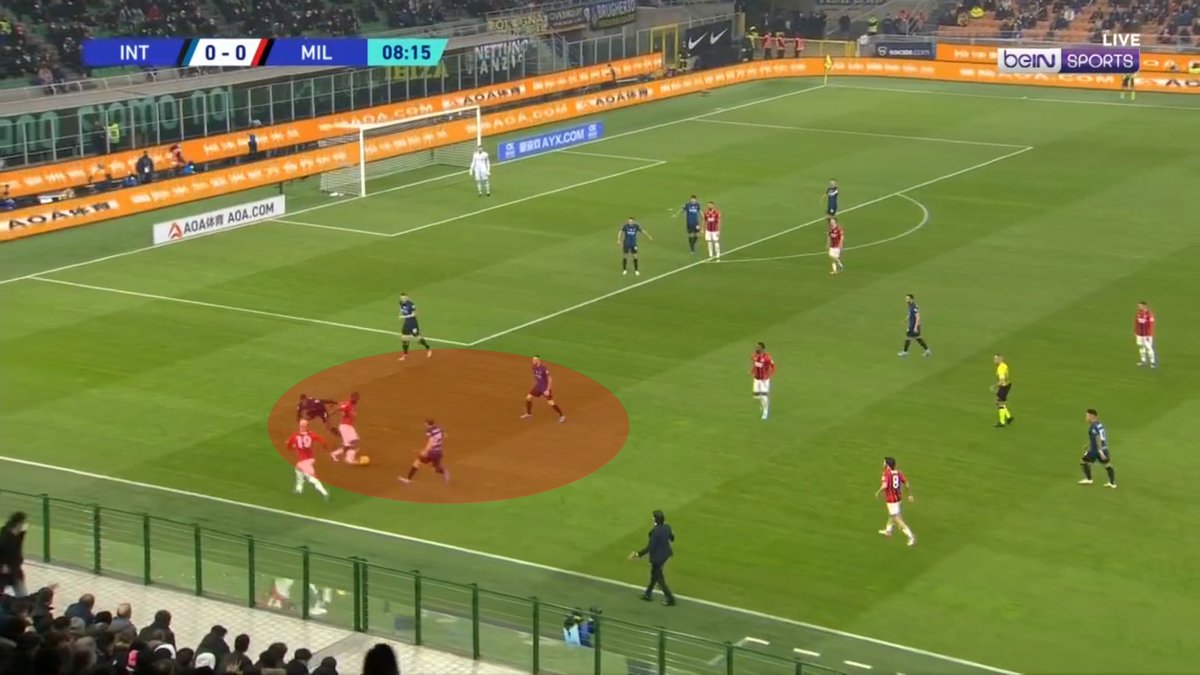 Inter would outnumber Milan with numbers on the wings giving them no space to pass through or options to pass towards, leaving the only viable option to pass backwards.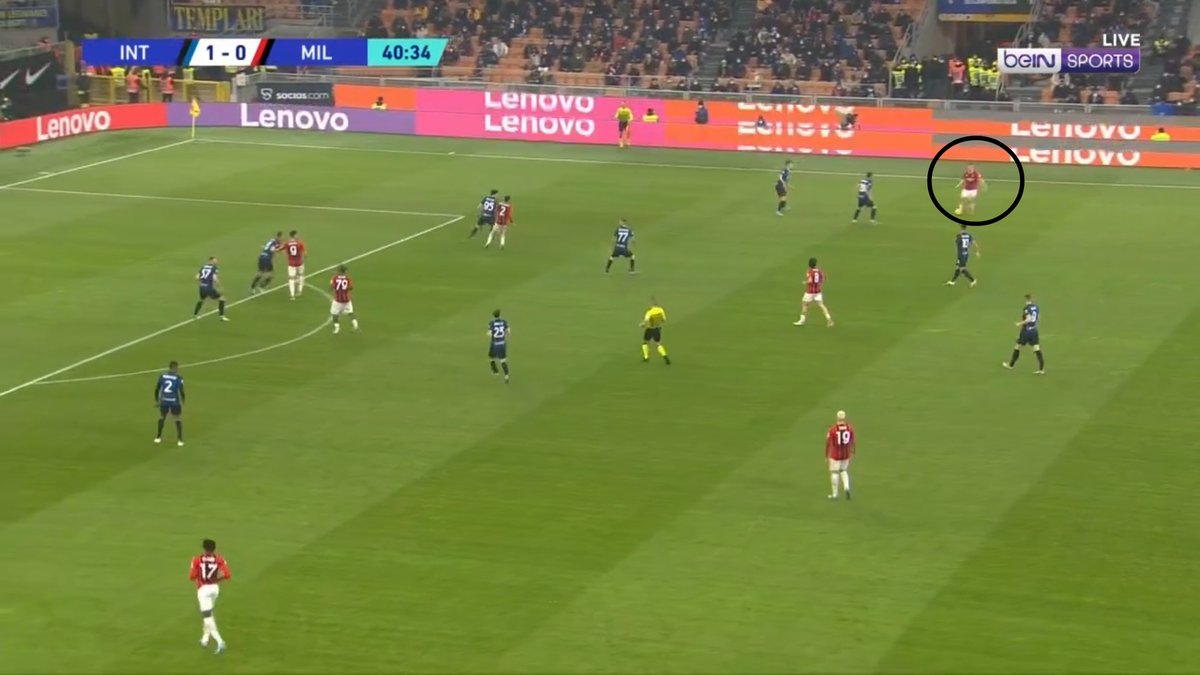 How Milan broke through
To break out of Inter's high press, Milan used clever tactical movements as shown in this sequence of play. Maignan, showing his tactical nous, pushes up allowing Kalulu to play as a wide centre-back and facilitating Calabria's push into midfield.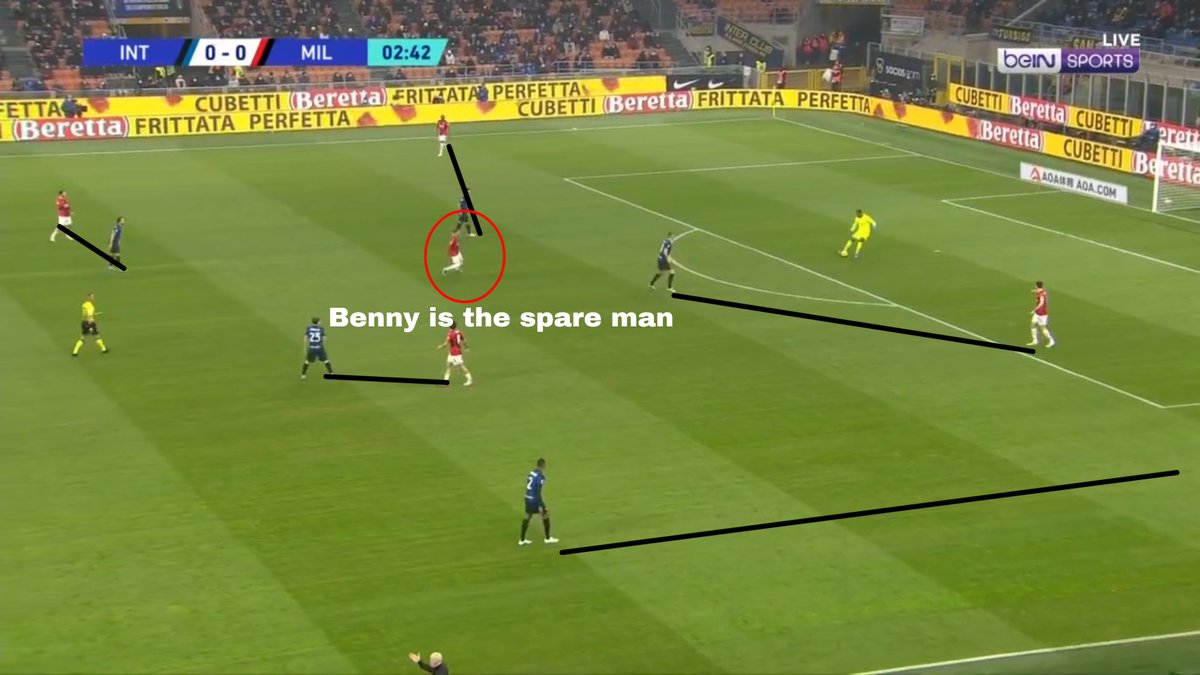 Lautaro, who was marking Kalulu, got pulled to the left. Calhanoglu, who was marking Bennacer, then had to mark Calabria. This meant that Bennacer was a spare man and had nobody marking him, making it a 2v1 on Barella with Tonali.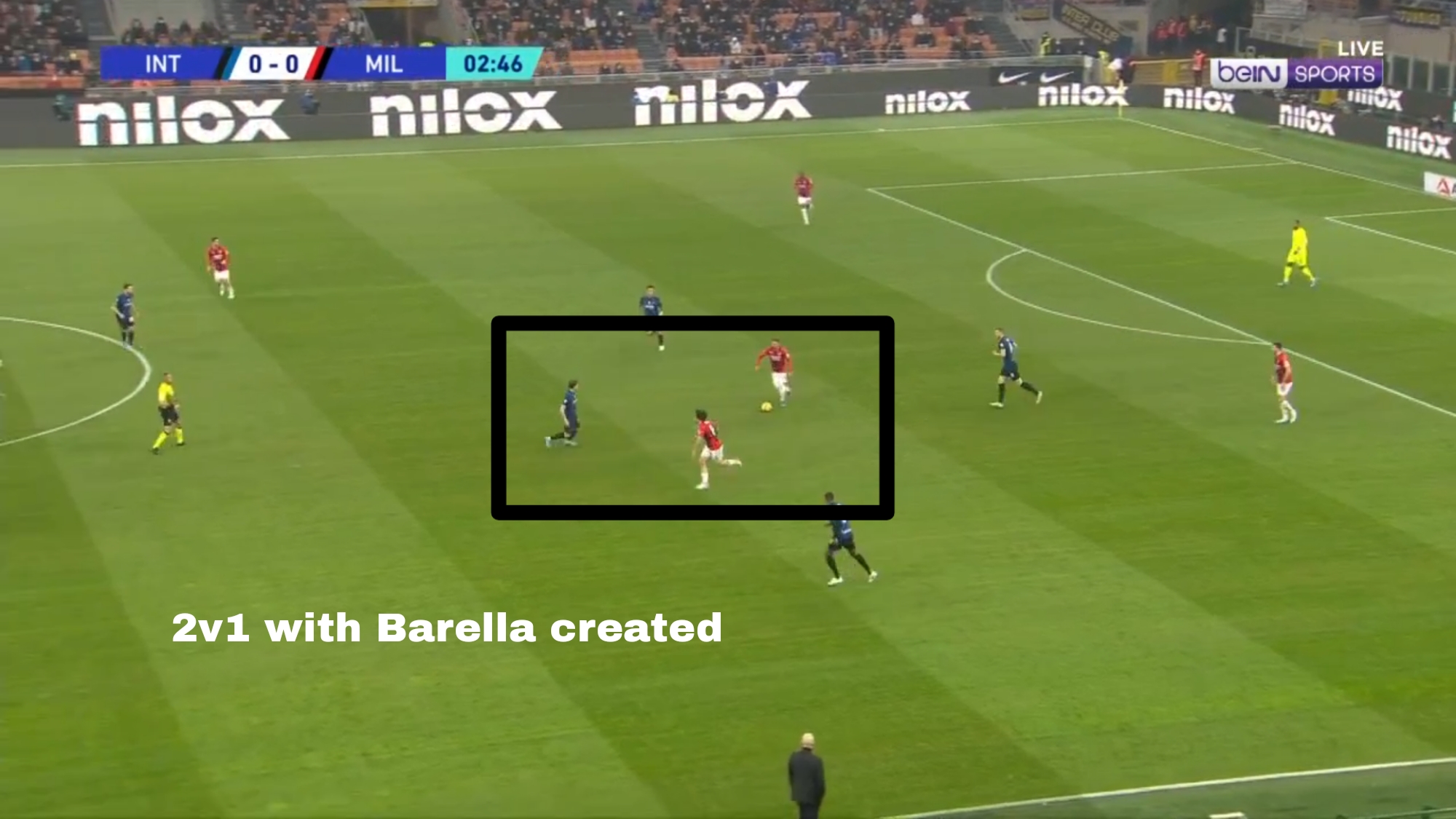 Once Inter had scored they settled into a deeper block, much like how Inzaghi had done with Lazio against Milan last season when they defeated Milan at the Olimpico 3-0. Their main idea was to suck Milan in, press the ball and launch swift counters. For this they used a 5-3-2 shape off the ball.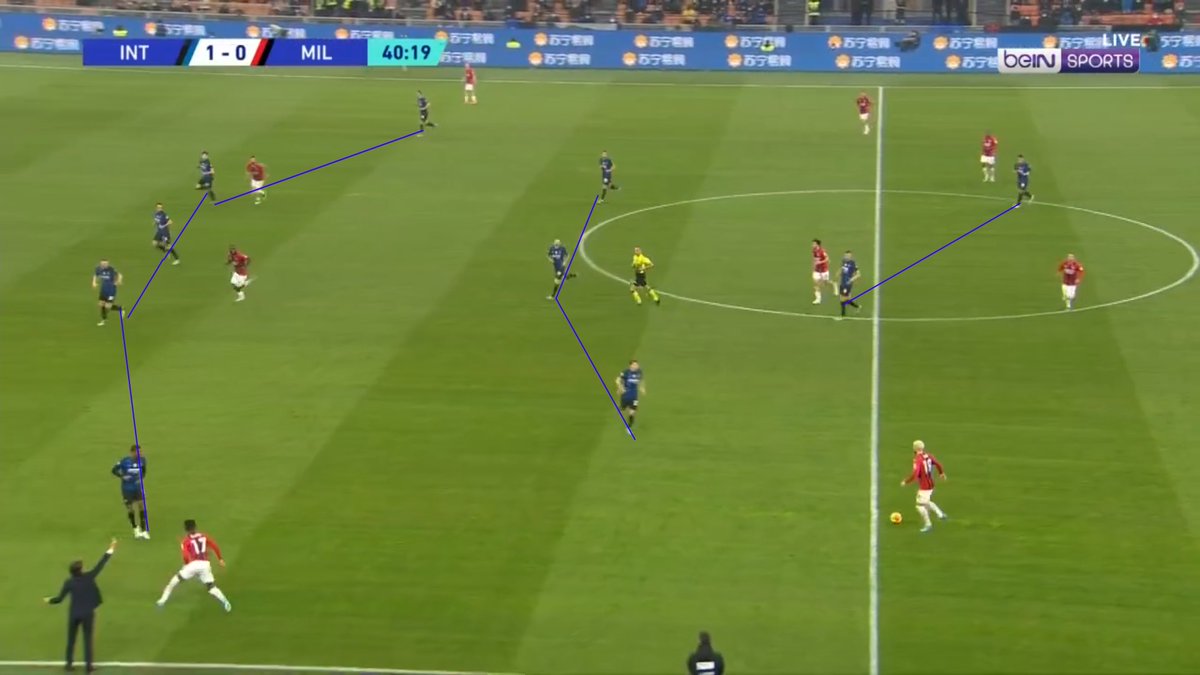 Inter were using quite a physically exhausting system that required a lot of work rate. They got back in numbers to protect their goal and clog the centre, and then got back in numbers to support their attack because Dzeko is no Lukaku and Dumfries is no Hakimi.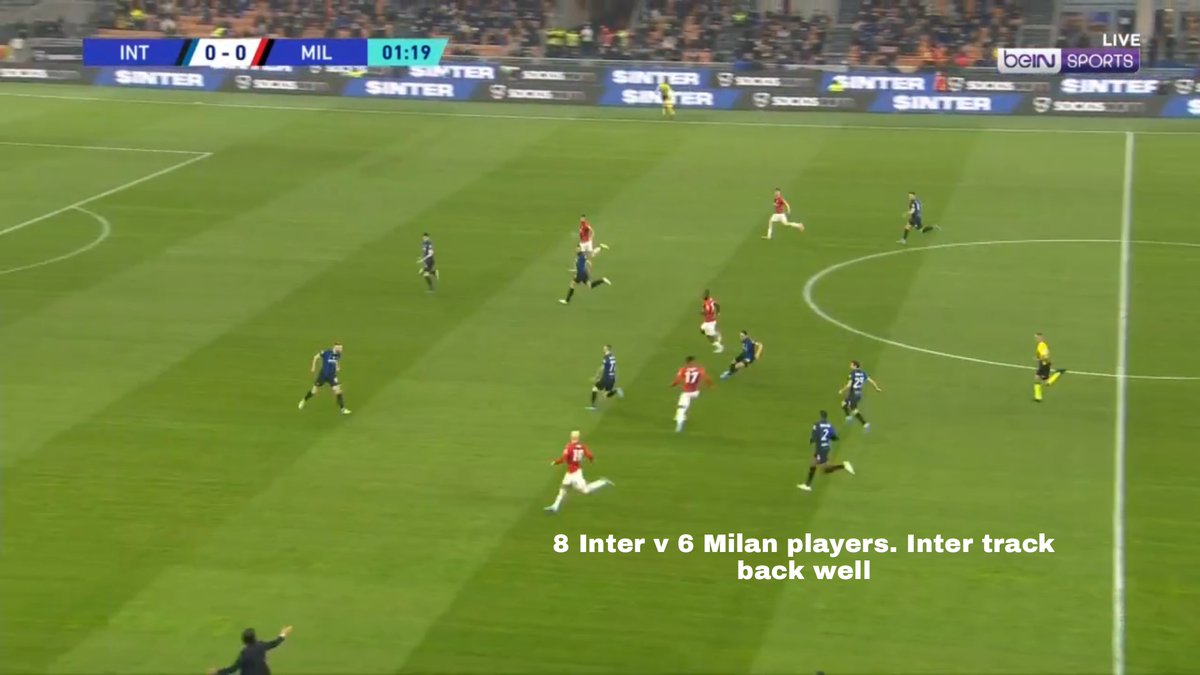 This took a toll on their performance in the second half and Inzaghi, to reduce workload, was more content to sit back into a low block and let Milan play a high line. This did not work in their favour.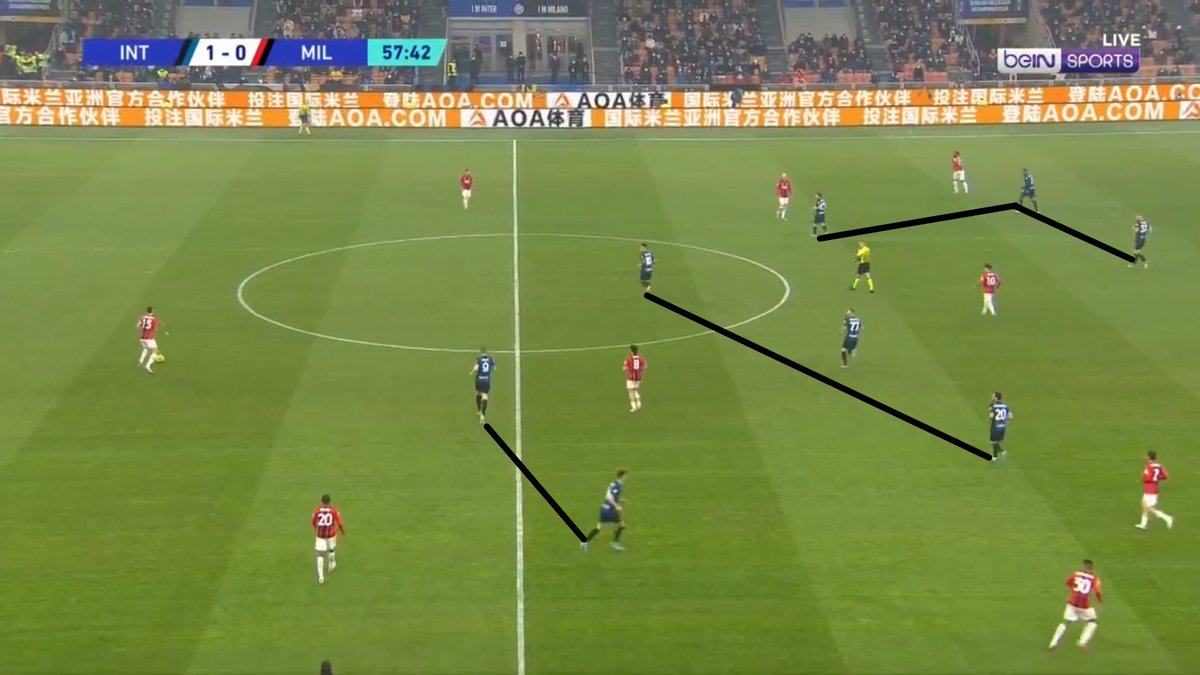 Seizing the chance
Pioli, whose idea was to contain Inter was in the first half using a central midfielder as a No.10 and a defensive winger to try and prevent Calhanoglu and Perisic double teaming Calabria, sensed the opportunity was coming.
He introduced Messias to target a tired Perisic to try and test his defensive side and his 1v1 defending. The idea was to get Messias to stay wide so that he could peg Perisic back and give space for Calabria to underlap.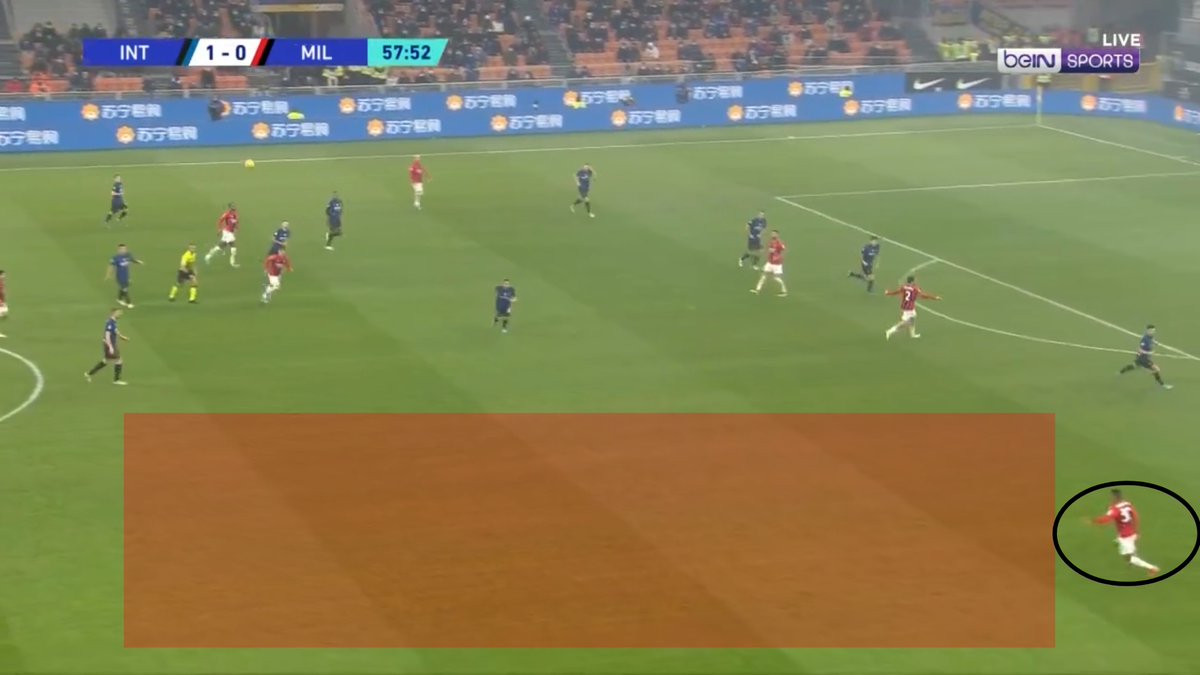 Space started to open up between the lines and, sensing the opportunity, Pioli brought Brahim Diaz on who was good in exploiting spaces and was a good ball progressor.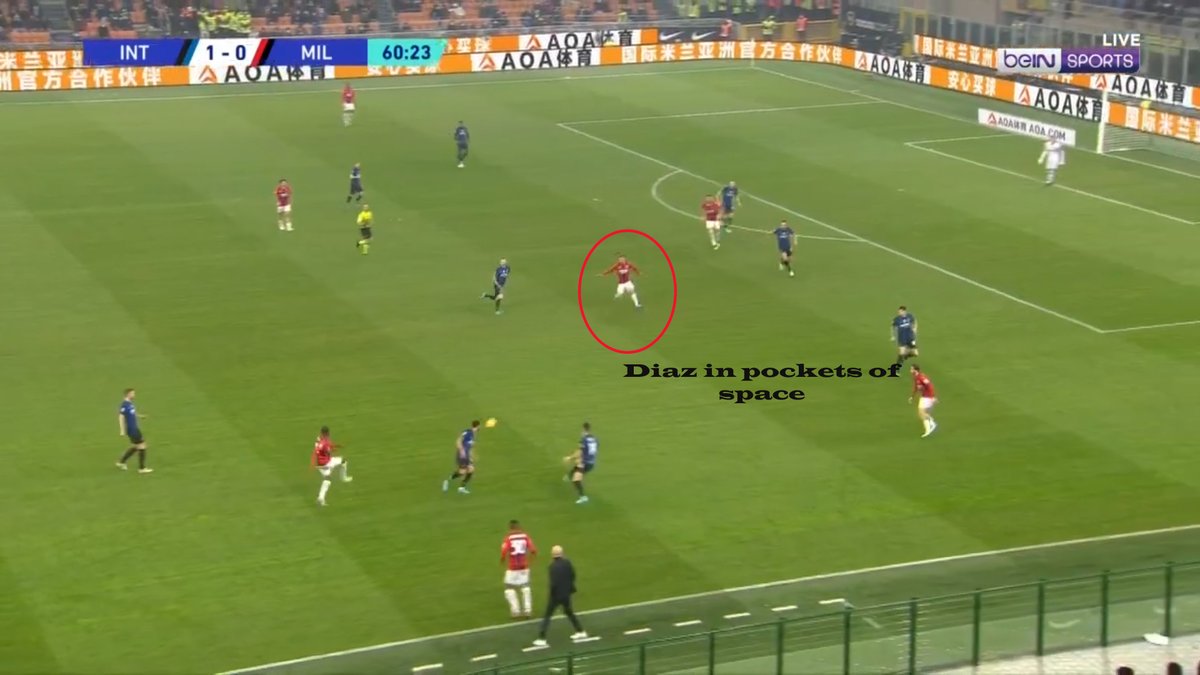 Milan had further leverage when they took a calculated risk of having Theo Hernandez bomb down the left to prevent Leao getting isolated, but somehow Inter were too tired to exploit the space.
Inter were still trying to contain Milan to the wing they were attacking but Milan were switching play very smoothly and Perisic – who by now was in his last few minutes – did not even come to challenge Calabria. This was an ominous sign and very similar to what happened for the second goal.
Inter were starting to crack, and the first instance was this SCA (Shot creating Action) from Kalulu and Diaz. Kalulu was pressed by two Inter players but some smart positioning from Diaz meant that Kalulu only had to make a six-yard pass and the press was broken.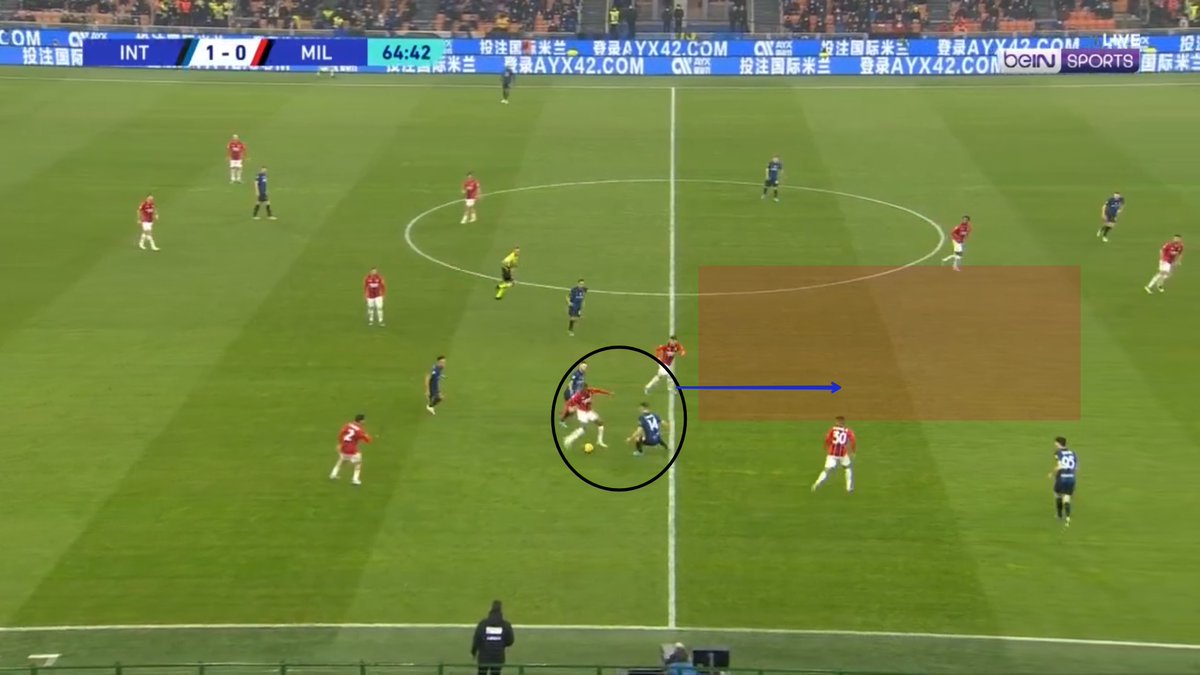 Milan also pressed Inter with intensity and the first goal came as a result of some intense pressing from Milan. Kalulu and Romagnoli were so high that they were almost in Inter's third, with Kalulu pressing Dzeko so as not to give space to progress the counter.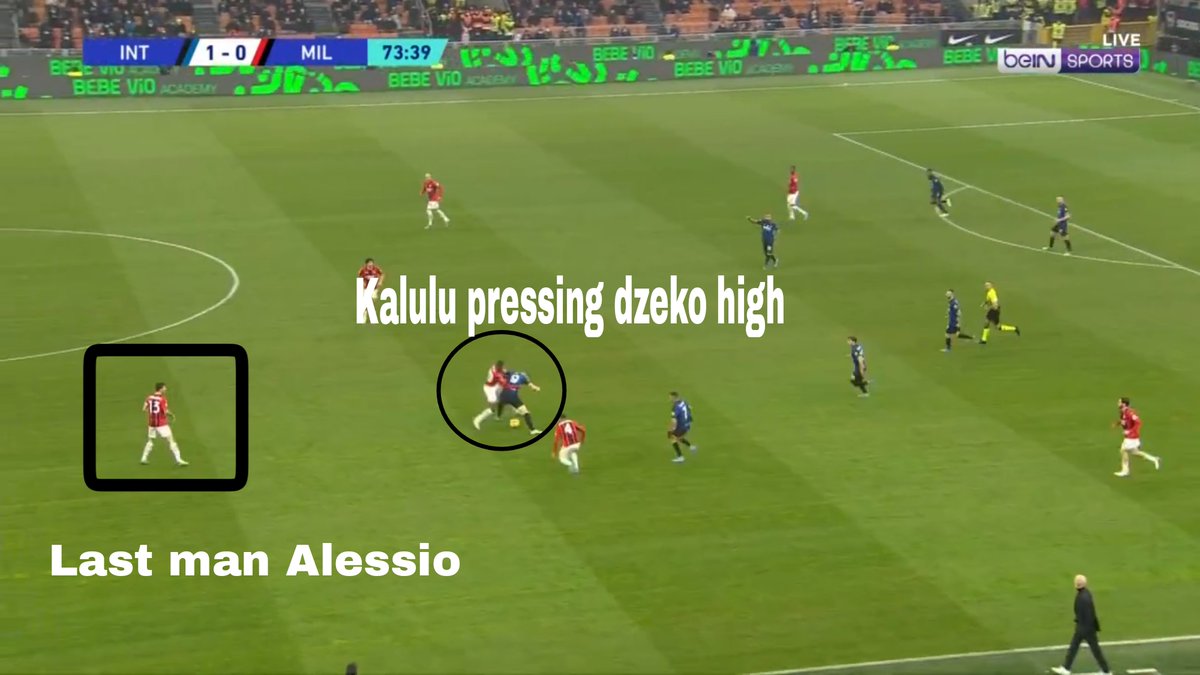 Brozovic then was pressed by Bennacer so he passed back to Skriniar. He then got the ball in return but was covered by Giroud. To break the press, he passed the ball to Alexis Sanchez but this was a pressing trap set by Milan as Sanchez had no option to pass or dribble as Milan were aggressive. Giroud got the ball back, Brahim saw a shot deflected into his path and the equaliser was scored.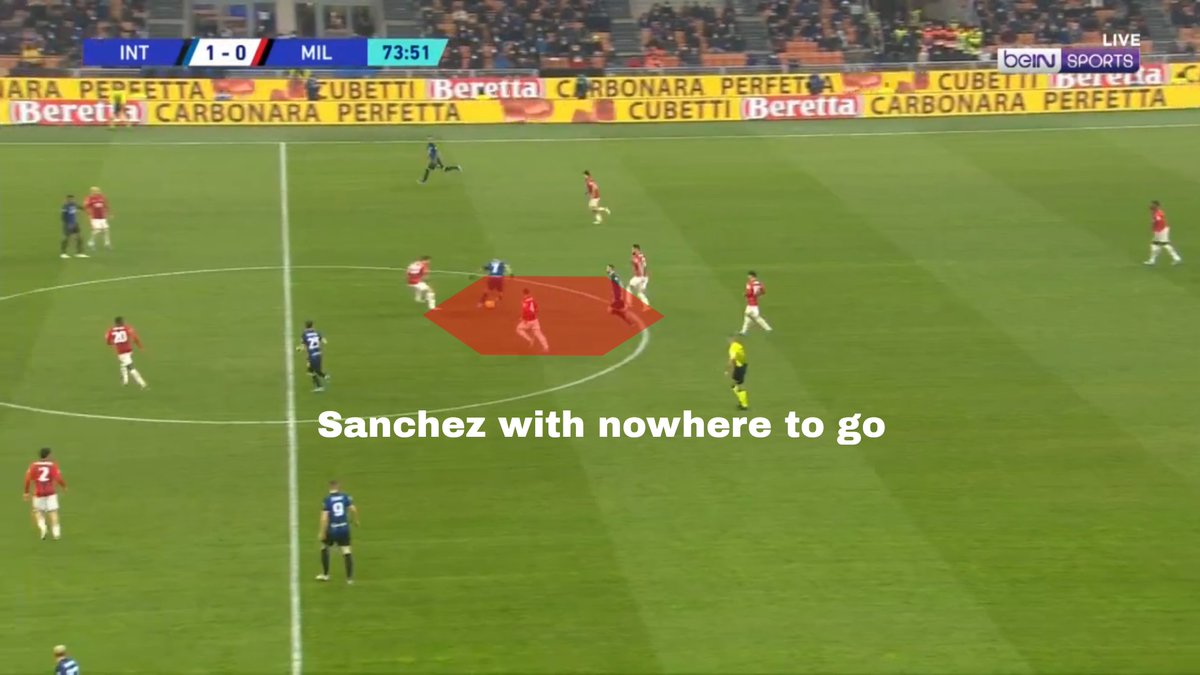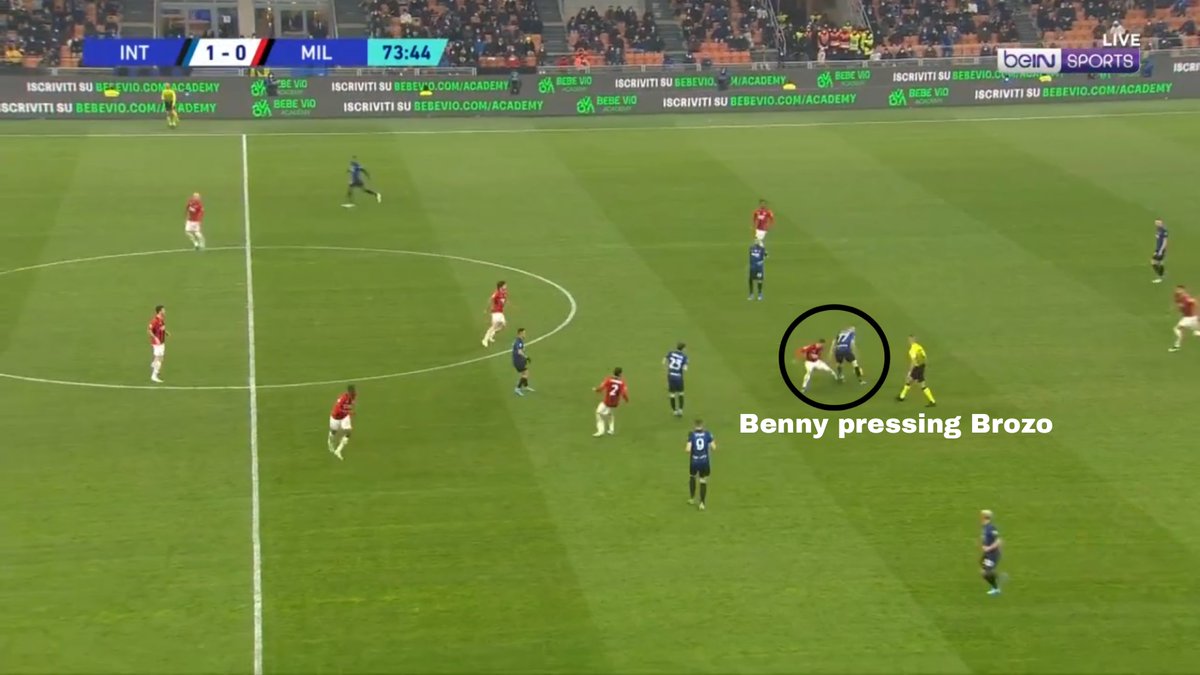 The second goal came as a result of Milan's clever switch. As described earlier, Messias was playing wide right like a traditional winger near the touchline giving space to Calabria to underlap. This put DiMarco in a tough 2v1 situation, since Barella failed to mark Calabria.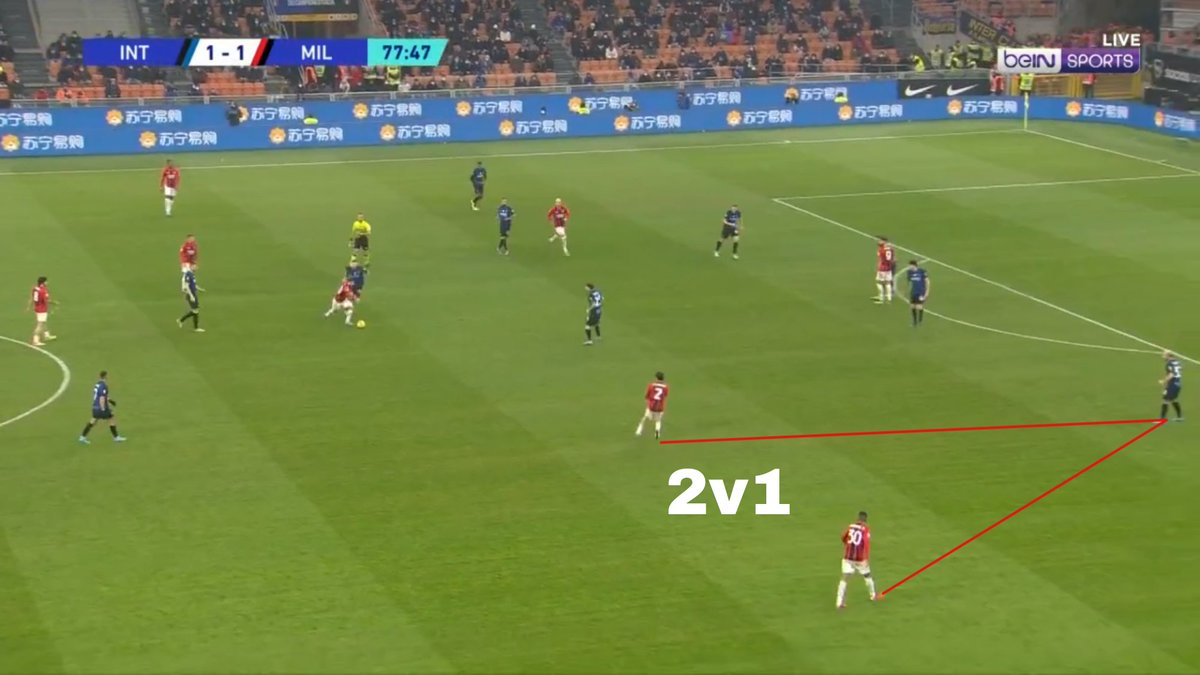 To cover DiMarco and make up the numbers, Bastoni came out of position and this set up a 1v1 between Giroud and De Vrij. As we know, the Frenchman won this battle.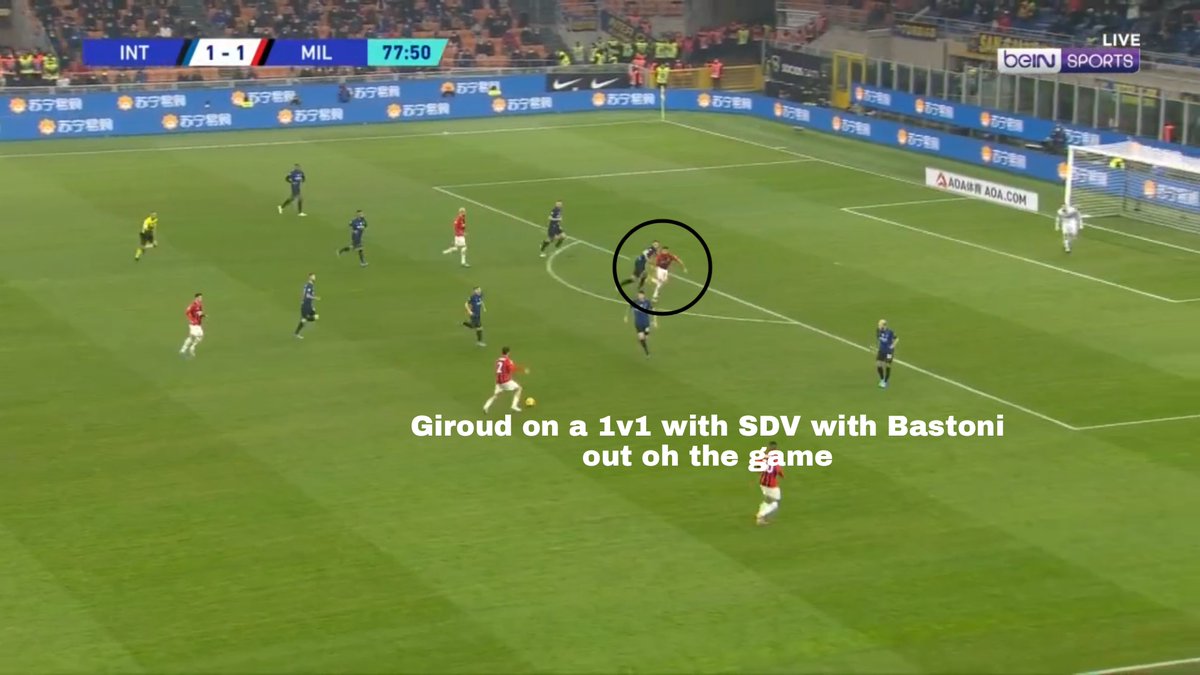 Inzaghi realised his mistake and made two more substitutions picking from a depleted bench with Gosens, Caicedo and Correa out with injuries, but the damage was already done.
Stats and conclusion
Pioli got his game plan spot on. He wanted to tire Inter out and then use the spaces that opened up to exploit and score. Milan's xG was 1.4 compared to Inter's 0.9 thanks to Milan creating three Goal Creating Actions while Inter only registered two.
To gain a good idea about how much Inter expended their energy, you just have to look at their pressing sats. Inter pressed 166 times and had a success rate of 28.9% while Milan pressed only 134 times but had a success rate of 27.6%. Efficiency is key.
Once again, we have to appreciate Pioli who has worked wonders with the squad he has. He always seems to find solutions to change games, and this is another feather in his cap.
---
MATCH REACTION: Five things we learned – French excellence saves experiments that backfired