After a hailstorm of news from major Italian sources, it was confirmed that AC Milan have closed the signing of striker Marko Lazetic from Red Star on a long-term deal.
In a statement on the official website, Milan confirmed yesterday that Lazectic has signed a contract with the club which will run until 30 June 2026. He joins with little first team experience under his belt, but he is very highly rated by those in his own country and will no doubt be eager to arrive and repay the faith of the management.
Lazetic celebrated his 18th birthday earlier this week (22 January). He stands at 1.92m tall (6ft3) and is predominantly right-footed but can use both feet for shooting, as our interview with a Mozzart Sport's head journalist Darjan Nedeljković revealed. Here is a small scouting report on the player…
Hold-up play
One main feature that strikers – especially those playing in a one-striker formation – are supposed to have is the ability to use their physicality to keep defenders from reaching the ball while wingers and midfielders occupy the temporary space left open.
Lazetic is able to use his tall frame and muscular build to keep defenders away (defenders in Serbia are particularly rough) while players around him were able to make runs into dangerous areas.
Being just 18 years of age and therefore most likely not at full physical maturity, we can safely assume he will get even better in this aspect just like Dusan Vlahovic did, for example.
Pace and acceleration
Pace has become such an important part of the game so much that all outfield players are expected to be quick. However, something equally important is acceleration or how quickly said players can reach their top speed.
Not only does Lazetic have excellent pace, but his ability to reach top speed is a very important part of his game and can help his ability to press and give defenders a torrid time.
Quick feet and one-on-one
As much as modern coaches focus on 1v1 for defenders, it is imperative for attackers to be good at taking on their man and beating them. Despite his height, Lazetic has nimble feet which makes it easy for him to turn his man. He also has demonstrated the ability to take on his man and beat him too, which is promising.
Pressing
Based on the film available, Lazetic does not press as much as much as some other players in Milan's system do, but this can be attributed to Stankovic's tactical approach. Instead of pushing high up the field, the former Inter midfielder allowed his Red Star side to cede progression of the ball into the middle third before pressing from multiple angles, which means less pressing for the front line.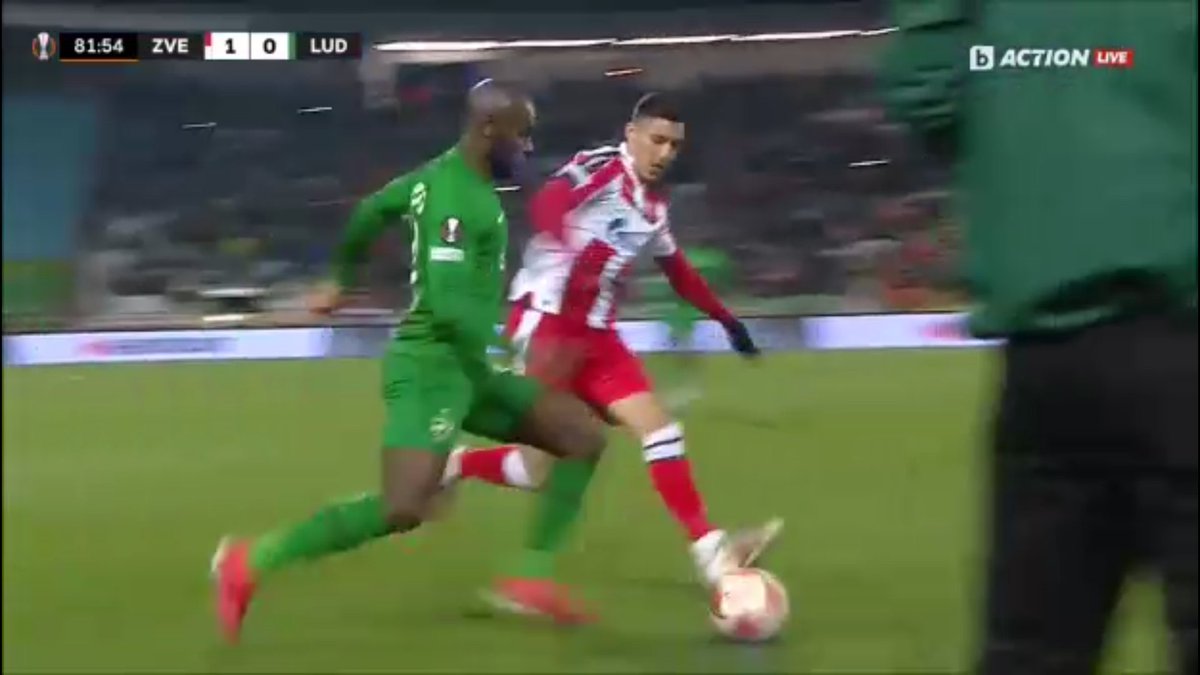 However, Lazetic does close down defenders and full-backs rather quickly, not allowing them to settle down on the ball and using his large frame to cut off options whenever he gets a chance.
Running in behind
Strikers like Pierre-Emerick Aubameyang are known for their runs behind the defence into the space left by the centre-backs, and Lazetic also has the knack of finding those spaces as demonstrated below.

It is what would be described as a trademark striker's run, exploiting the gap between the opposing full-back and centre-back that results from a moment of disorganisation, making himself available for a through ball over the shoulder.
This is particularly encouraging for Milan because they win the ball high up the pitch through pressing more than any other team in Serie A, so these kinds of chances will present themselves and the opportunity to slide the No.9 in behind provides a different threat to the more stationary Ibrahimovic and Giroud.
Areas to improve
Of course Lazetic is only 18 years old and has a long way to go before even being close to being a finished product, but it is important to highlight some weaknesses observed, as a yardstick for his progress into being a well-rounded striker if nothing else.
Aerial ability: Despite being 1.92m tall, Lazetic lacks the aerial dominance usually associated with players of his stature. When we look at players like Ibrahimovic and Giroud, we see two strikers who are always engaged in aerial combat with their opponents.
Discipline: Lazetic racks up unnecessary yellow cards when he gets frustrated and needs to learn to control himself. Against Partizan he collected an unnecessary caution when he purposely bumped into an opposition player.
Conclusion
Fans need to be patient with Lazetic and not expect any miracles from him, not for the time being anyway. As much as he is an exciting prospect he is still very raw and it will be an excellent opportunity for him to learn under two very decorated senior players in Ibrahimovic and Giroud.
---
READ MORE: All bark no bite and double teaming – Tactical analysis of Milan's draw against Juventus