On 6 August 2022, Sandro Tonali limped off the pitch after sustaining a groin injury in the friendly against Vicenza, which sent alarm bells ringing on social media.
Tests and diagnoses were conducted to determine the severity of the injury, and it determined he will be monitored day by day. But, the chilling prospect of starting the season with Rade Krunic partnering with Ismael Bennacer in central midfield would have given those concerned a sleepless night, not because Krunic would start the odd game, but of the associated premonitions.
Before losing Franck Kessie to Barcelona this summer, few teams could rival Milan's depth in midfield. The Italian champions could play Tonali, Bennacer and Kessie simultaneously or deploy one instead of the other. That luxury no longer exists. As defending champions, that no longer would be a luxury either.
Tonali's meteoric rise in 2021/22 ensured that he was Stefano Pioli's first-choice central midfielder, clocking 2608 minutes across 36 appearances in Serie A, 31 of which were starts. Kessie, Pioli's next preferred central midfielder, was positioned as a pseudo No.10 in the second half of the season, following Brahim Diaz's ominous drop in form. A quick glance at Kessie's stats indicates that he made 31 appearances for Milan in Serie A. However, 22 of these were in central midfield, clocking 1895 minutes in the process.
Ismael Bennacer, now an undisputed Milan starter, was the third-choice central midfielder last season. This wasn't down to serious injuries – he missed only two Serie A games due to injury. This was a result of pairing and performance.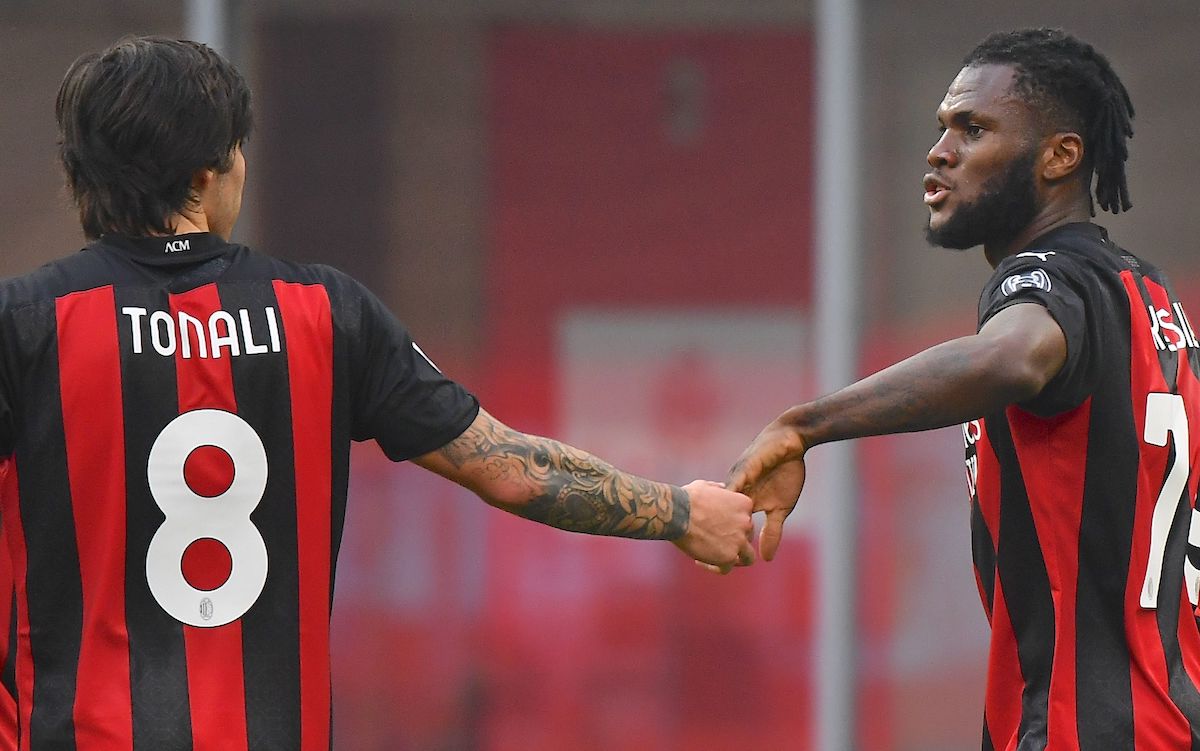 Tonali and Kessie made for a stronger double-pivot, complimenting each other's strengths. They'd even mirror each other, alternating roles of supporting the attack and screening the defense when required. Bennacer ended the season registering the lowest starts (15) and the fewest minutes (1523) of the three.
Bennacer isn't a weak player, far from it. He has distinct strengths and is an asset to the team. However, heading into the new season with Tonali and Bennacer as uncontested starters and the rest not being nearly good enough is a shuddering thought.
There is some solace with Tommaso Pobega returning to Milan after a successful stint at Torino, bolstering the midfield depth for the seven-time European champions. He checks the homegrown quota and will find minutes over the course of the season. Milan have signed a contract extension with him, keeping the boy from the academy at the club till 2027.
Despite this show of faith, Pobega is not the calibre of player to step into Kessie's gigantic shoes. Showing up for a team that finished 10th in the league is one thing. Competing with some of the best midfielders in Serie A is another. Lest we forget, Tiemoue Bakayoko. There isn't much to say about the incompetent loanee from Chelsea, is there?
DM request 👇

Per 90′ performance radar confront between Tommaso #Pobega for #Torino 🔴 and Frank #Kessie for #Milan 🔴⚫️ in 21-22 #SerieA 🇮🇹

Has #Milan ⚫️🔴 already replaced #Kessié who has joined #Barcelona 🔵🔴 by bringing home #Pobega ? pic.twitter.com/5GGMRWQcZi

— MxD Zone (@mxd_zone) August 4, 2022
Pioli has recently commented that they aren't trying to sign like-for-like replacements. Milan's unrequited pursuit of Renato Sanches characterises the kind of midfielder Pioli has requested for. The incoming player's quality is of equal importance, which seems to have been lost in the narrative.
Milan will be expected to defend their title and qualify for the knock-out stages of the Champions League. With other top clubs in Serie A adding quality to their ranks this summer, winning the title again will be harder than it was last season.
Milan are unlikely to be handed a traumatically difficult group in the Champions League, given that they are in Pot 1, but qualifying for the knockout rounds won't be a breeze either. In a compact season where games will come thick and fast, possessing a deep and competitive squad is of utmost importance. Competition would also push Tonali and Bennacer to keep improving during this stage of their career, as complacency would be disastrous for either of them.
Tonali is expected to miss the season opener against Udinese on 13 August. Another injury to him and Pioli would usher Pobega and Krunic into the starting line-up, suggesting an enormous drop-off from having Kessie in the squad.
Pioli has admitted to needing a midfielder (and a defender) and Milan must address these requirements – even if not immediately but by the end of August – to continue on the team's upward trajectory. Having come this far, regression isn't an option.