One of the key talking points from AC Milan's beginning to the 2022-23 season has been the perceived drop off in the side's defensive resilience.
It is important to preface the following by saying that the levels Milan fans and the media had become accustomed to during the battle for the Scudetto were so impressive that they were almost certainly unsustainable.
In the final 11 league games of the 2021-22 campaign the Rossoneri kept nine clean sheets and let in just two goals, with the back four of Davide Calabria, Pierre Kalulu, Fikayo Tomori and Theo Hernandez doing an excellent job of keeping Mike Maignan's afternoons and evenings quiet.
With the benefit of hindsight, it could be said that there were warning signs about the defensive struggles to come as Milan kicked off their title defence with a 4-2 win over Udinese to begin the campaign in front of a sold out San Siro.
In that particular match, the Diavolo fell behind as Rodrigo Becao scored yet another header from a corner and then another header from a cross made it 2-2 heading into the break, though Milan got the win so all was well.
After 15 Serie A games thus far in 2022-23, Milan have kept a clean sheet in just four and two of those came in the opening four games of the season. They have only let in 15 goals – therefore an average of exactly one per game – but while the opposition are almost always scoring they are in the game.
The Champions League group stages saw Milan concede in each of their first four games; a total of seven goals let in with five coming in the worrying double defeat against Chelsea (3-0 and 2-0 away and at home respectively), with back-to-back 4-0 wins over Dinamo Zagreb (away) and RB Salzburg (home) sealing progression.
So what exactly has changed for Milan and why are they seemingly struggling to shut the door this time? We've taken a look at some possible factors.
Personnel changes
The kinds of defensive numbers that Milan put together in the second half of last season were always going to be tough to replicate heading into the Scudetto defence but what was at least hoped was that the defence continued to be a strength given that the only real change was Alessio Romagnoli leaving and Malick Thiaw being signed from Schalke.
While Romagnoli was the club captain and a tremendous servant in his seven years with Milan the feeling was that the high line Pioli wanted to play and the aggression he sought from his centre-backs had rendered a rather more conservative player like Alessio a bit less useful to the cause, while Thiaw has the athletic mould to certainly try and adapt to such a style.
The other bit of business worth mentioning actually links in to a topic that will be talked about – injuries – as Sergino Dest arrived on a season-long loan deal from Barcelona after Alessandro Florenzi went down early in the campaign.
Apart from that, Pioli went into the new season able to call upon Davide Calabria, Florenzi, Kalulu, Tomori, Simon Kjaer, Matteo Gabbia, Thiaw, Theo Hernandez, Fode Ballo-Toure and Dest among his available defenders.
There is something else that hasn't been spoken about enough though, and that is the departure of Franck Kessie. Putting the manner of his exit to one side, there is no way of sugar coating that fact that Milan's midfield has got significantly weaker as a result of going from Tonali, Bennacer and Kessie as options to Tonali, Bennacer and either Pobega, Vranckx or Krunic as the third man.
What the Ivorian did was combine his physicality both on and off the ball to help shield the defence, as he was often first in line to try and thwart opponents in transition, his size was useful in battling for loose balls and second balls, and while in possession he had an ability to slow things down but also drive play forward.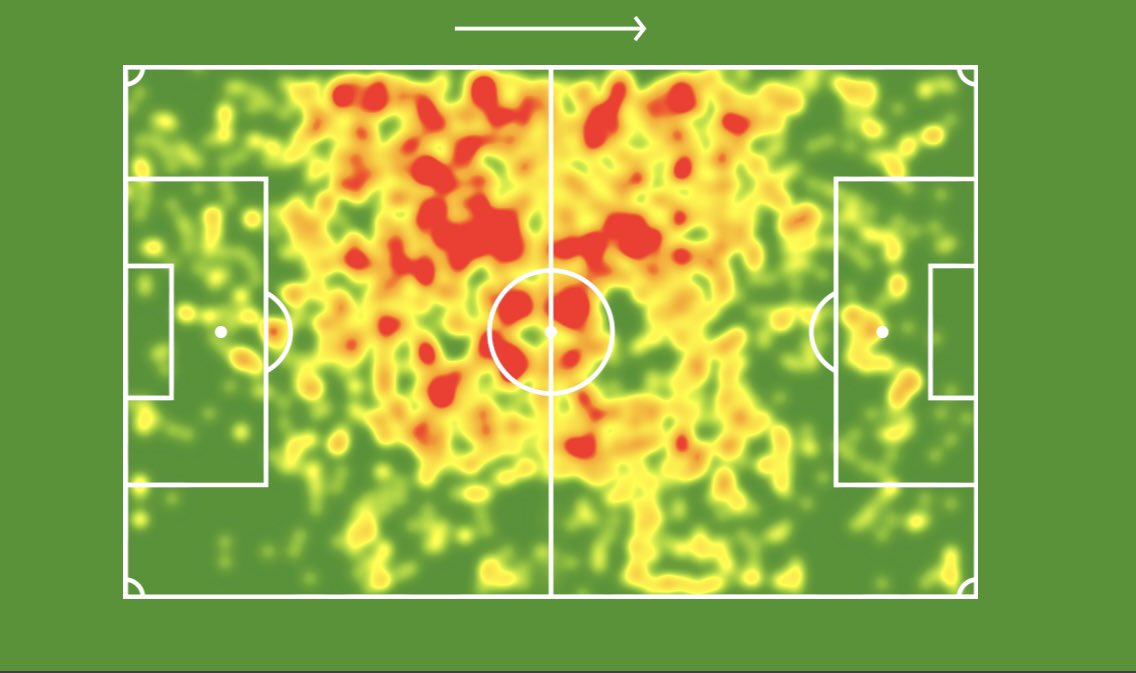 The heat map above shows the sheer work rate and the distance that Kessie covered too, all of which contributed to territorial superiority in the midfield and meant the defence had to do less work. For those unconvinced, watch back the key moments from the two losses against Chelsea and it becomes obvious that the same shield isn't there any more.
Injuries
The first problem that has impacted things is the sheer volume of injuries that Pioli has had to deal with, as 16 players within the squad have missed at least one game this season due to physical problems, with the total for combined games missed being 74.
Sandro Tonali missed the first match of the season, Rade Krunic had a five-game absence from rounds two to six, Charles De Ketelaere missed a game with a muscle issue, Ante Rebic missed four league matches, Alexis Saelemaekers has been out since that cursed game in Empoli in round nine, while Junior Messias, Divock Origi, Marko Lazetic and Zlatan Ibrahimovic have all been missing for various stages.
That is without even counting the defensive department, which has been borderline chaotic. Mike Maignan suffered a calf problem on international duty with France and has missed the last eight league games after sustaining another calf issue just days before his planned return against Monza.
Matteo Gabbia missed the last match against Fiorentina due to a problem with his knee tendon which seems to be precautionary, and Simon Kjaer didn't take part in the wins over Juventus and Hellas Verona due to discomfort.
Theo Hernandez missed the win in Empoli as
Fode Ballo-Toure was summoned for that, Davide Calabria has been out since the Empoli game and Alessandro Florenzi came off in the 0-0 draw against Sassuolo with an issue keeping him out until 2023.
Simply put, that amount of absentees and the way that key defenders have piled in and out of the treatment room is difficult for any side to content with, and it has regularly forced Pioli to change his plans.
Rotation
Due to the intense nature of the fixture list leading up to the World Cup and Milan often playing three games every eight days as a consequence of that, some pre-planned rotation was always talked about as being healthy to make sure each player went into every start with near enough a full energy tank.
However, the issue with the injuries was that the rotation became forced, something which has meant Pioli has rarely been able to field the same back four from one game to the next which has a clear impact.
Below are the defensive combinations that Milan have fielded in each of their games so far this season:
➤ Udinese (4-2 W): Maignan; Calabria, Kalulu, Tomori, Theo.
➤ Atalanta (1-1 D): Maignan; Calabria, Kalulu, Tomori, Theo.
➤ Bologna (2-0 W): Maignan; Calabria, Kalulu, Tomori, Theo.
➤ Sassuolo (0-0 D): Maignan; Florenzi, Kjaer, Tomori, Theo.
➤ Inter (3-2 W): Maignan; Calabria, Kalulu, Tomori, Theo.
➤ Salzburg (1-1 D): Maignan; Calabria, Kalulu, Tomori, Theo.
➤ Sampdoria (2-1 W): Maignan; Calabria, Kalulu, Kjaer, Theo.
➤ Zagreb (3-1 W): Maignan; Calabria, Kalulu, Tomori, Theo.
➤Napoli (1-2 L): Maignan; Calabria, Kjaer, Tomori, Theo.
➤ Empoli (3-1 W): Tatarusanu; Calabria, Kjaer, Tomori, Ballo-Toure.
➤ Chelsea (0-3 L): Tatarusanu; Dest, Kalulu, Tomori, Ballo-Toure.
➤ Juventus (2-0 W): Tatarusanu; Kalulu, Gabbia, Tomori, Theo.
➤ Chelsea (0-2 L): Tatarusanu; Kalulu, Gabbia, Tomori, Theo.
➤ Verona (2-1 W): Tatarusanu; Kalulu, Gabbia, Tomori, Theo.
➤ Monza (4-1 W): Tatarusanu; Dest, Kjaer, Tomori, Theo.
➤ Zagreb (4-0 W): Tatarusanu; Kalulu, Kjaer, Gabbia, Theo.
➤ Torino (1-2 L): Tatarusanu; Kalulu, Gabbia, Tomori, Theo.
➤ Salzburg (4-0 W): Tatarusanu; Kalulu, Kjaer, Tomori, Theo.
➤ Spezia (2-1 W): Tatarusanu; Kalulu, Gabbia, Tomori, Theo.
➤ Cremonese (0-0 D): Tatarusanu; Thiaw, Kjaer, Tomori.
➤ Fiorentina (2-1 W): Tatarusanu; Kalulu, Thiaw, Tomori, Theo.
What the above reveals is that Milan were able to call upon what would be classed as the 'first choice' defensive department from last season early in their title defence, with Maignan, Calabria, Kalulu, Tomori and Theo Hernandez all available.
However, what is also interesting is that after the first clean sheet against Bologna, the defence was changed for the next game against Sassuolo with Florenzi and Kjaer coming in. Following that clean sheet, it changed again to bring Calabria and Kjaer back in.
After the 2-0 win against Juventus to end a run of seven games without a clean sheet, Pioli did then field the same defensive department for the next game against Chelsea but was forced to change plans inside 20 minutes after Tomori's red card.
Then, the 4-0 win in Zagreb was with a centre-back pairing of Kjaer-Gabbia that was broken up for the next match – a 2-1 loss in Torino – as Pioli went with Gambia-Tomori.
Following the 4-0 win over Salzburg to secure progression into the last 16 of the UCL, the Kjaer-Tomori pairing was broken up again as Gabbia partnered the Englishman for the win over Spezia.
The most recent example is perhaps the most striking as Thiaw made his first start in Cremona as part of a back three alongside Kjaer and Tomori, and then the German found himself partnering Tomori with Kalulu to his right and Theo at left-back for Sunday's 2-1 win over Fiorentina.
Cohesion
One of the key factors behind Milan's defensive strength last season was the fact that the back four very rarely changed in the second half of the season. Of course not being in European competitions helped that, and there was better luck on the injury front, it must be said.
The benefits of that probably do not need spelling out, but for the avoidance of doubt it was clear for all to see that Tomori and Kalulu had blossomed into a fantastic and complimentary partnership because their individual athleticism and instinct was brought out through the chemistry, cohesion and organisation that developed between the two.
That of course extended to the back four too, as each player knew the other members of the defence well, understanding their movement and tendencies, while the team operated as a tight and compact unit in the press and in both attacking and defensive transitions.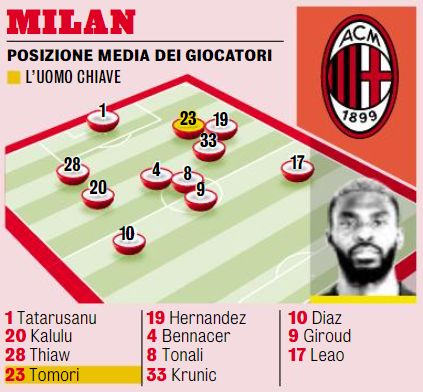 The average position map above is from the most recent game against Fiorentina, one that critically exposed most of Milan's shortfalls in defensive transition as we highlighted in our tactical analysis.
The gap between the centre-backs and the position of Kalulu is a reminder that for as good as these players are to be at Milan, if you move a player (Thiaw) from the right side of defence to a centre-back pairing and then bring in a centre-back who was rested for that game (Kalulu) to play right-back, the coverage can get confused.
Another issue is that Milan seem to have bought into their deficiencies and are perhaps being influenced by them.
The Rossoneri were among the best for PPDA (Passes Per Defensive Action) last season. This number measures how many passes an opponent makes before Milan make a defensive action (tackle, interception etc.), so the lower the PPDA the better.
Milan's PPDA was as high as 11.1 against Monza earlier this season, and while the number against Fiorentina – 9.2 – was much closer to last season's PPDA average of 8.86, it seemed to come at the cost of organisation.
Looking at the 2-0 win over Bologna earlier this season, which was a very effective defensive performance involving the 'first choice' back four of last season, the territorial control out of possession shows how high a line and how compact the team were out of possession.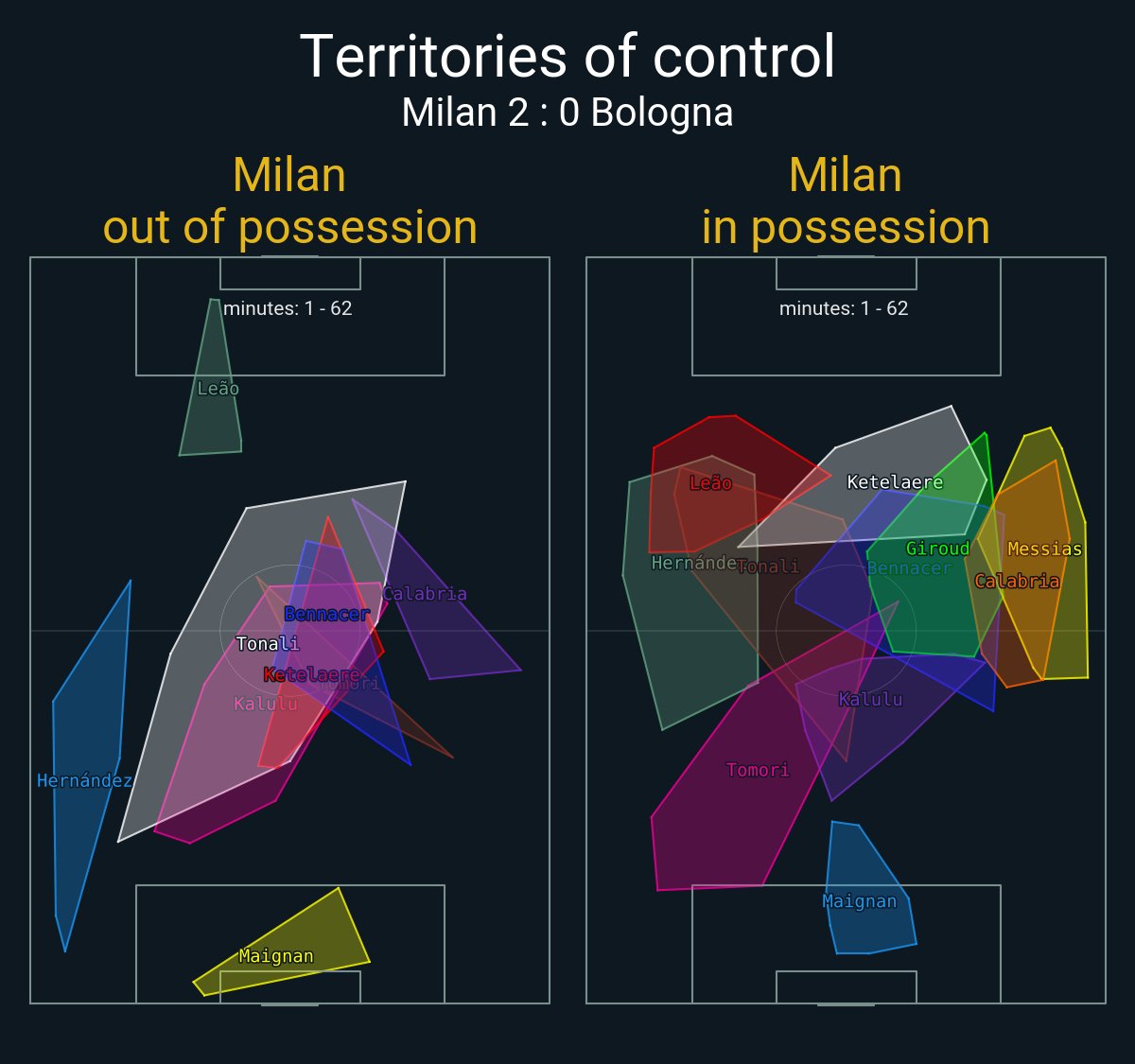 When comparing that to the Fiorentina game, the team are far deeper and there is very little overlap of the zones in the central areas, which strongly suggests a more disjointed press and a more individualistic way of defending.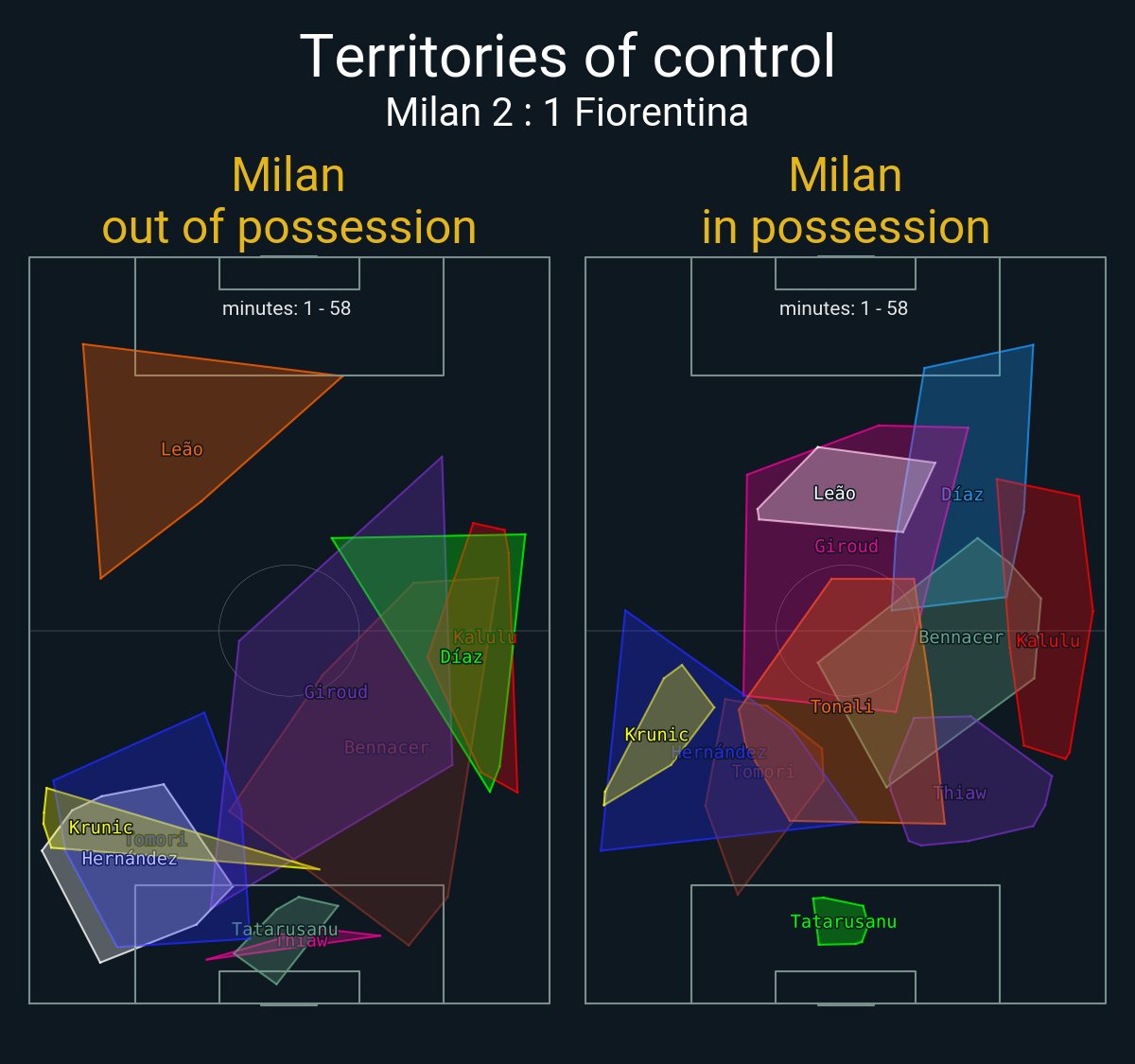 It is perhaps therefore no surprise to see situations like the one below arise, where Tomori broke his line to pressure the ball carrier forcing Thiaw and Kalulu to shuffle over, creating an overload down the right side that resulted in a shot hitting the post.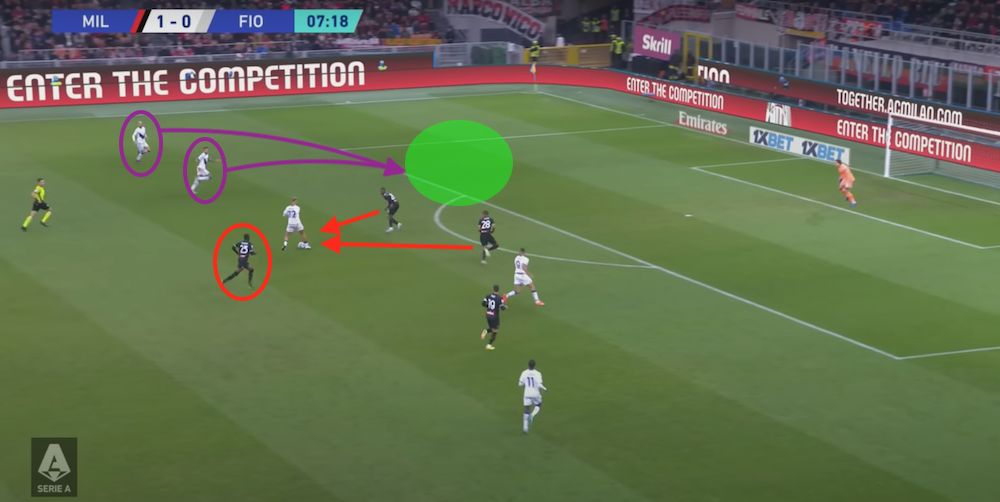 Conclusion
So what can Milan do to aid their defensive woes? First of all, it must be said that – barring the Chelsea games and also perhaps the Torino one – a team is yet to blow the Rossoneri away and the goals conceded have very often been restricted to one in games. That means some small tweaks should do the job rather than an overhaul.
The first step is to recover the injured players over the break and get them familiar with the defensive plays and schemes that brought such success last season. Theo, Kjaer, Dest and Ballo-Toure will be at the World Cup so the rest can work on regaining familiarity as Calabria, Saelemaekers and Maignan return, before the Dubai training camp really ramps up preparation for 2024.
The second step is exactly that: to use the winter break to iron out deficiencies, to take advantage of having time off to build up that chemistry again and rediscover why it is so important to push up as a unit, to understand when to engage and to manage transitions better.
Milan's games prior to the Supercoppa final against Inter include Salernitana away, Roma at home, Torino at home (cup) and Lecce away. Surely there is a chance then to hit the ground running and recreate the stellar defensive record from the early part of 2022 onwards.

More Stories / Devil's Advocate