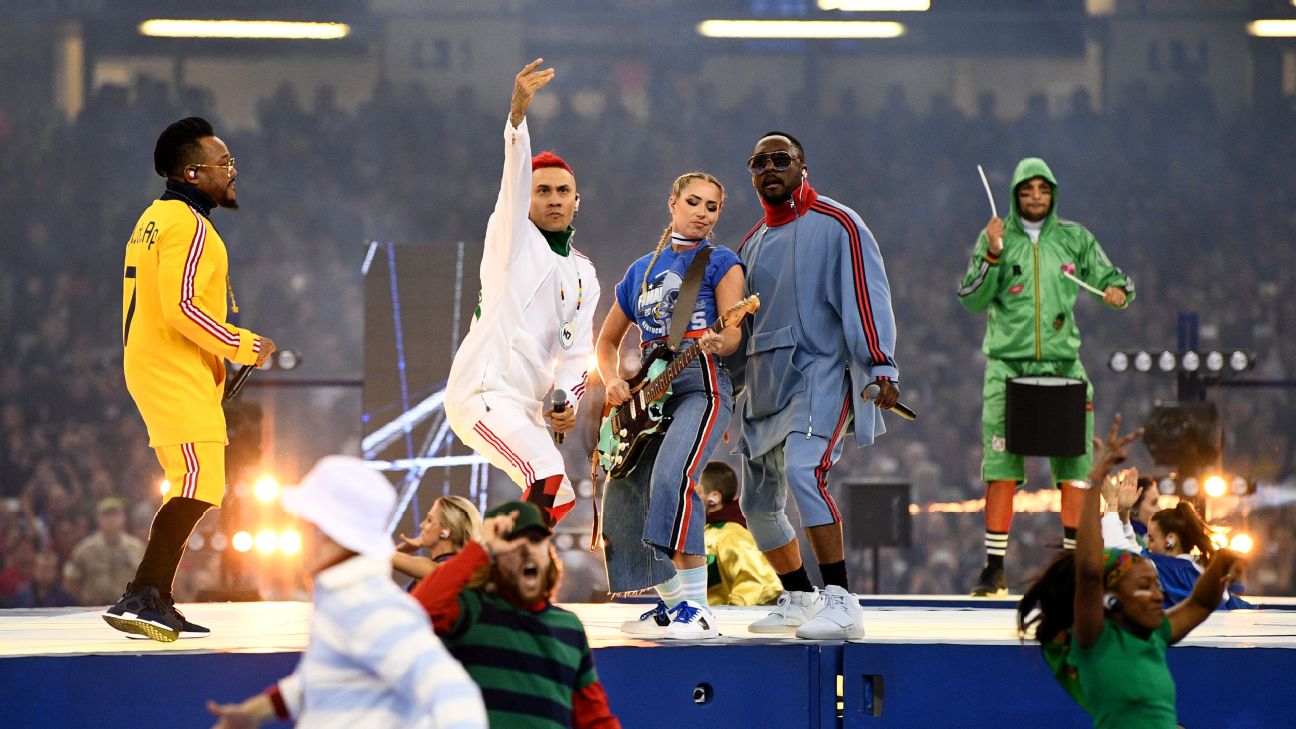 Ahead of the 2014 UEFA Champions League final — a Madrid derby in Lisbon's Estadio da Luz — famed choreographer Wanda Rokicki said the prematch entertainment would honor Portuguese traditions "including naval history or the art of tiles." The following year in Berlin, an estimated 180 million viewers in 200 countries watched Barcelona dust Juventus 3-1, but not before opera stars Nina-Marie Fischer and Manuel Gomez Ruiz sang hymns with the Junges Ensemble Berlin Choir.
Somehow that was a departure from the 2013 iteration, which included a giant game of chess, 300-plus drummers and Joey, the equine puppet from Steven Spielberg's "War Horse," galloping around the Wembley pitch.
Europe's answer for a Super Bowl halftime show, this was not.
– Stream on ESPN+: LaLiga, Bundesliga, more (U.S.)
But that was all before PepsiCo — whose 10-year Super Bowl halftime show sponsorship deal ended last year — entered into a partnership with UEFA that has seen it sponsor the Kick Off Show since 2015. In 2016, fresh from joining Season 11 of "The Voice," Alicia Keys — keen to point out that the UCL final reaches "every corner of the world" — debuted new music in Milan ahead of that year's final.
"By creating a global stage as part of the UEFA Champions League final for the first time will produce an epic, memorable moment that will draw an even broader global fan base to the pitch, elevate the excitement of the 2016 final, and establish a new tradition for one of the world's most beloved sport spectacles," Carla Hassan, then-senior vice president of PepsiCo's global brand management, said at the time.
But multi-Grammy winner Keys' performance did not leave an impression on the San Siro crowd. The following year the Black Eyed Peas, flanked by dueling keytarists, ran their hits — including "Let's Get it Started" off 2003's "Elephunk" — but did so without Fergie, whose departure from the band was announced the day before.
"I noticed a change in 2017 in Cardiff [with] the Black Eyed Peas," Andy Elliot, UK media liaison of UEFA, told ESPN. "To get them to play a football match was quite something — it was the first big one [Pepsi] did and they really cut it fine. [In the end], they were being chased off the field."
Taboo, will.i.am and APL.DE.AP, the remaining Peas, entered the Millennium Stadium pitch in a full sprint. "People in Cardiff, put your hands up!" Taboo beckoned amid "Boom, Boom, Pow" — a plea which, a panning camera revealed, went largely unfulfilled.
Global pop stars such as Dua Lipa, Sean Paul, Imagine Dragons, Marshmello, Selena Gomez, Khalid and Camila Cabello have all showcased their talents before kickoff in club soccer's biggest match in the years since, to mixed receptions.
"We start internal discussions with UEFA in the summer and with artists typically about nine months before the UCL final," said Mark Kirkham, PepsiCo's chief marketing officer of international beverages. "We usually then begin the creative process with the artist about seven months before the big date.
"We see the Kick Off Show as a creative platform to bring international genres to a mainstream stage and celebrate diversity in the music industry: Camila Cabello and how she infused aspects of her Cuban-Mexican heritage, this year Burna Boy celebrating his Nigerian roots and Anitta bringing Brazilian flair," Kirkham added. "[We ask ourselves]: 'Are they the biggest name in music right now? Are they the next big thing?'"
In total, Kirkham says, from inception to execution, the process takes almost a full year.
"It's not a stretch to say they looked at the Super Bowl and saw the kind of impact the entertainment had on the [game]," Elliot said. "[UEFA] have tried to make [the final] a much bigger occasion and the entertainment is part of that."

Kirkham confirms that only official PepsiCo partners and sponsors, such as Gatorade and Lay's, have branding presence in and around the stadium. And while Super Bowl halftime show performers aren't compensated for the performance, PepsiCo declined comment on if artists are paid or how much the production typically costs.

"[But] not counting the promotional activities leading up to the show, the performance is broadcast to nearly 200 countries and territories globally," Kirkham said. "It's an incredible platform for any artist, and many integrate it into their overall marketing campaigns and tour schedules where appropriate."

Super Bowl LVII in February was the second-most-watched Super Bowl of all time, according to Nielsen, with 136 million viewers between Fox television and digital. In a typical year, the UCL final's global audience is three to four times that — but, arguably, what the Super Bowl does better is entice casual fans. To illustrate the gap in audience reach between the Super Bowl and UCL performances, Rihanna's 2023 halftime show garnered 162 million views on YouTube and the 2022 Super Bowl show got 204 million views, while last year's Champions League performance mustered 39 millions views and the 2021 performance hit similar numbers with 33 million views.

"Those two hours [of the UCL final] have proven year in and year out to be an absolute draw, so why not piggyback [and] bring in more of the casual audience?" said Rob Stone, Fox Sports' lead soccer host since 2012. "If you're able to pull in those casual viewers, that's another feather in [executives'] cap. Mom or Dad or your sister who doesn't know much about soccer, if Rihanna's going to be on, they're going to be interested."

Rihanna's Super Bowl LVII extravaganza, in which she revealed to the world that she was pregnant with her second child, wasn't just a boon as far as reach and exposure; it further gilded the Barbados singer's pockets overnight. According to Luminate, which provides Billboard with the data that comprises its charts, Rihanna's song sales experienced a boost of nearly 400% in the days following her performance. From the day of the halftime show through the day after, on-demand streams peaked at above 62 million, up from 26 million 48 hours prior.

It's that type of instant reach that UEFA can't necessarily offer yet, but hopes to. Soccer, as Stone points out, is still evolving in popularity stateside. But it's also a far cry from his first World Cup working for ESPN/ABC in 1998.

"It was just a tight-knit core group of folks doing their best to not dip to black," Stone said of that broadcast team in Paris.

And now?

"In Qatar for Fox and the World Cup, the amount of people and preparation more than quadrupled," Stone said. "Soccer was always seen as kind of an outsider sport [to the] people who make decisions and write checks: Is there enough of a fan base? How much explaining do we really have to do? The growth of this sport has been surreal — gone past even most people's wildest expectations."

In 2011, the UCL final between Barcelona and Manchester United was at that time the most watched by Americans in the competition's history at 2.6 million viewers. The 2022 iteration had 3.2 million, streamed on Paramount+ alone. The total, between English- and Spanish-language broadcasts on television, as well as streaming, resulted in the most-watched final in U.S. history at nearly 5.5 million viewers.

"Over the last couple of years, there's been a lot of talk about the Champions League final, even a suggestion it could be played in America," Elliot said. "Nasser Al-Khelaifi, chairman of the European Club Association [and club president of Paris Saint-Germain] has said it should be as big as — if not bigger — than the Super Bowl."

"These are ideas that my bosses have pushed for years," Stone said. "We wanted a Premier League, an FA Cup or Champions League game in the United States. For years, the soccer accountants of the world have known what the U.S. can bring to their bottom line. You already saw it with the Copa America coming to the United States. Why are we not taking it to this market that craves what we can deliver?"

Kirkham notes that, while the location is ultimately up to UEFA, that would reap rewards for all involved. "We'll follow UEFA's lead and do our part in creating an electric environment for fans, wherever it takes place. If it does end up in the States, all good. This is a global concept."

But one hiccup to contend with: a relative lack of interest in the prematch show from fans and the all-around debacle of 2022 — which included a 37-minute delay, tear-gassed fans outside the stadium, and finger-pointing between purportedly unruly fans and UEFA. The fallout was so calamitous that UEFA eventually refunded any Liverpool fan with a ticket.

ESPN soccer presenter Alexis Nunes called the scenes "unsavory," while senior writer Mark Ogden noted that the Real Madrid end was full two hours before kickoff while the Liverpool end remained barren. He called what he saw outside "disgusting" and claimed that one instance of tear gas was "unprovoked." UEFA first claimed that the delay was due to fans arriving late but later said fake tickets caused the holdup. In the weeks following those allegations — France's interior minister claimed there were 40,000 fake tickets — UEFA's Martin Kallen, general director of UEFA events, revealed the true count to be "2,600."

To boot, the prematch show featuring Cabello started while fans were still entering the 81,000-plus-seat Stade de France and ended in a crescendo of boos. A post on Cabello's Twitter account was sent, and subsequently deleted, about how "rude" fans were during the performance; Cabello's camp later claimed it was written by someone with access to her account and not the "Havana" singer herself. PepsiCo declined to comment on the events of last year, or Cabello.

"Last year was strange because of the trouble outside, but usually people get in early and whip up the atmosphere," Elliot said. "You've seen the official report — having to switch the final relatively late" — the Russian city of St. Petersburg was set to be the host city but had the match revoked after the invasion of Ukraine — "and the French police's attitude [toward fans]."

UEFA-appointed independent investigators found that European soccer's governing body bore the "primary responsibility" for the failures of 2022's final. They also pointed out that UEFA's blaming of late-arriving fans and fake tickets for causing delays was erroneous. The head of the Paris police force from the game retired less than two months after the final, and in February of this year, with the release of the investigation, the Independent Senate report published recommendations for improvements.

"Probably unprecedented," Elliot said. "Don't think it'll happen again … better not."

What also gets left behind in the hubbub of 2022 is Real Madrid's continued dominance, their fifth UCL championship in less than a decade and 14th overall. This year, Manchester City competes for a historic European treble — which would be only the second by an English club — and their first title in club history, while Inter Milan are looking for their first UCL title since 2010.

In Istanbul, ahead of the match, there's new ground for UEFA, too. Instead of artists already popular in the United States being introduced to the world at large, both two-time BET International Artist of the Year Award winner Burna Boy and Anitta, the 2022 Favorite Female Latin Artist winner at the American Music Awards, will be introduced on a grand scale to Americans.

"This is a big presentation to millions and millions of people worldwide," Stone said. "In years past, I guarantee you, some of these entertainers would say to their managers, 'What is this? Where am I going?' Now people will be fighting to say, 'Can you get me on [the] pregame?'"

The prematch entertainment has been hit-or-miss so far, but the exposure and audience are, ironically, also unprecedented.

"When Pepsi came on as a UEFA partner eight years ago, our ambition was to bring spectacular choreographed music performances to the biggest game in club football," Kirkham said. "It's a huge platform for the artists to unite football and music fans. We [want] to create something exceptional that works for everyone."